US tyre boss mocks French work ethic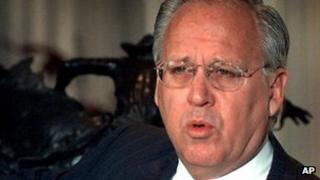 The boss of US tyremaker Titan has caused an uproar in France after saying that French workers only put in three hours a day and he would have to be "stupid" to invest in the country.
Maurice Taylor made the claims in a letter to France's minister for industrial recovery, Arnaud Montebourg.
He was replying to a request for Titan to consider investing in a loss-making Goodyear plant in Amiens, north France.
The CGT union said the letter was "insulting".
'The French way'
"I have visited that factory a couple of times. The French workforce gets paid high wages but only works three hours," Mr Taylor said in the letter, dated 8 February, and published by French business daily Les Echos on Wednesday.
"They get one hour for breaks and lunch, talk for three and work for three. I told this to the French union workers to their faces. They told me that's the French way!"
At one point he asked, "How stupid do you think we are?"
Mr Montebourg refused to comment on the letter but told French journalists: "Don't worry, there will be a response."
He said he would reply to Mr Taylor in writing.
Government spokeswoman Najat Vallaud-Belkacem said the letter did not reflect broader US views of investing in France.
"I would remind Mr Taylor that France remains the largest recipient of US investment in Europe and there are probably very good reasons for this," she said.
Mickael Wamen, the CGT union's representative at the Goodyear plant was more forthright. He said the letter showed Mr Taylor, "belongs more in an insane asylum than at the head of a multinational corporation".
Mr Taylor, nicknamed "the Grizz" for his bear-like no-nonsense style, made an unsuccessful run for the Republican nomination in the 1996 US presidential election, campaigning on a pro-business ticket.
France has a 35-hour statutory working week, brought in by the Socialist Party in 2000, but critics say it is now stifling economic growth.