New York Times to sell Boston Globe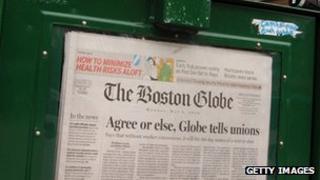 The New York Times Company has said it plans to sell the Boston Globe and its related assets in order to focus on its namesake newspaper.
It has hired Evercore Partners to advise on the sale, which also includes the Worcester Telegram & Gazette and a 49% interest in Metro Boston.
The Times previously tried to sell the Globe in 2009 as the paper made losses.
But it eventually decided against it after cutting costs and winning concessions from trade unions.
The New York Times once owned dozens of newspapers as well as television and radio stations and sports clubs, but in recent years has shed most of its assets.
The sale of the Globe and the Telegram & Gazette will leave it with just its flagship newspaper and the International Herald Tribune.
"We are very proud of our association with the Globe and the Telegram & Gazette," said Mark Thompson, president and chief executive of the New York Times.
"But given the differences between these businesses and the New York Times, we believe that a sale is in the best long-term interests of these properties and the employees who work for them as well as in the best interests of our shareholders."
Mr Thompson took over at the New York Times in November last year, after being director general of the BBC since 2004.