Italy election: Disillusioned Italians demand a change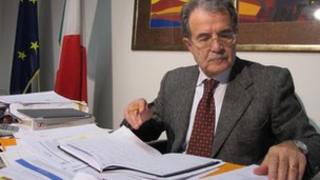 Northern Italians don't like this season of the year at the best of times. These days, the chill winds and rain are made worse by austerity. Repeated tax hikes and rising unemployment really do make it feel like economic winter has set in.
The wind whistles down Bologna's near-deserted arcades, where a shop displays racks of unsold three-euro dresses. Even drinks in some hotel mini-bars are half price, to try and maintain some cashflow.
Yet, this is one of Italy's most prosperous cities. It is the country's seventh largest city, and the centre of the region producing Parma ham, Parmesan cheese and balsamic vinegar. It can still boast a wide range of industries, financial service companies and a large exhibition centre. Just a short drive from the city is the headquarters of Ferrari, arguably Italy's most prestigious brand.
Strangely, though, days before the polling stations open their doors, not a single general election poster or candidate is visible on the main streets. Even the politicians appear to have lost their enthusiasm. Maybe that's because there are few votes in publicly supporting yet more austerity measures.
Voters seems cynical about party promises to put money back into their pockets, or reverse the emergency austerity policies which got Italy off the hook with its international investors.
Crime and tax evasion
Romano Prodi is one of the big figures of Italian politics. Mr Prodi, who has offices in the city centre, served two terms as prime minister, with a spell as president of the European Commission sandwiched in the middle.
He has direct and bittersweet experience of trying to revive Italy's stuttering economy. In his view, the priority for the next government is to step up the fight against red tape and corruption.
"Foreign investors have so many [investment] choices. They're not going to choose Italy if they have to fight against criminality. Then we must tackle tax evasion. And we need to do far more about bureaucracy, like all the building restrictions facing businesses. But its not all about changing the law, it's about changing behaviour," he said.
Mr Prodi isn't the only one who thinks entrenched attitudes could be part of Italy's problem. Just outside the city centre, the co-founder of a business start up, Hivejobs, says that in his experience, traditional family employers are often reluctant to make room for highly qualified young knowledge workers.
Employment rules do make it hard to take on new workers. Yet Alesandria Raguseo says the issue runs deeper. He cites the case of a highly-qualified young IT worker who was clearly the best candidate to join a family firm.
But the potential employer was worried because the jobseeker in question had worked at a string of companies in his short career. So the worker was not offered the position "because he wouldn't be loyal". By the time the employer had changed his mind, the worker had found another post.
Mr Raguseo says another priority for the new government is to act on Italy's "digital divide". He said: "There has to be investment when you consider that some regions in Italy still have the connectivity of the 1990s. This is not good in business when Italian firms have to look beyond the local market to find customers globally."
Forgotten generation
A typical user of the Hivejobs site is 31-year-old Antonia Caserta. She has a masters degree qualification, and has worked in the US. Yet she's been job-hunting for three months without success.
She said: "I think young people are upset with politicians at the moment. They see them and the government as the reason why there aren't a lot of jobs for young people. The politicians invest a lot in the older generations, but tend to forget about the ones in their '20s and '30s, the generation that's going to make Italy grow."
Family companies are also finding that as the banking system is cleaned up and bank mergers take place, loan decisions tend to be supervised higher up the chain, at regional level. This leaves local enterprises unable to trade on their traditional relationships with managers they used to know well.
One locally-based business leader with a deep understanding of the credit worthiness of Italy's companies is Silvia Ghielmetti, general manager for CRIF Decision Solutions. Her company operates on four continents and provides data to more than 2,400 financial institutions. She says that if Italy wants to create more wealth, then its family companies have to break out of the mould and start merging.
"Italian businesses need to be aware that they must be big enough to reach international markets. So, smaller companies have to find a way to aggregate. Economic policy should incentivise them to do just that, and also help to create a management culture."
Just under two hours drive north of Bologna is Breganze, a tiny town in the Veneto. It's in this unlikely setting, seemingly in the middle of nowhere, that a spanking new and architect-designed building rises out of the winter mists. It's the nerve-centre of a company which many still don't even realise is Italian.
'Too much corruption'
This is the vast designer-HQ of Only the Brave, a collective of fashion brands best known for its Diesel jeans. It's the house that Renzo Rosso built. It all began in 1970, Mr Rosso made his first pair of bell-bottom denims, stitched at home on his mother's Singer sewing machine.
Now his company employs 6,000 people worldwide and the Breganze headquarters is populated with energetic young people, scurrying around to create and market each season's new collections.
What does the man behind one of Italy's most successful businesses think of the line-up of politicians standing for office this weekend. Not much. Mr Rosso says Italy's leaders are still focussing their efforts on protecting the old order, and give too little encouragement to the rising generation of potential wealth-creators.
"This country needs to change a lot. There's too much corruption, politicians just think about how to cover the present situation and make small adjustments. One says more tax, another tries to give it back . But they don't have the vision. They are the old generation and you don't feel any of them is a man or woman who is going to change Italy".
It's quite an indictment of the current political classes. But it comes from a man whose businesses were constantly growing when Italy's business economy was heading fast in the opposite direction.
What's more, it's a judgement widely shared in his country.