Singapore budget focuses on foreign workers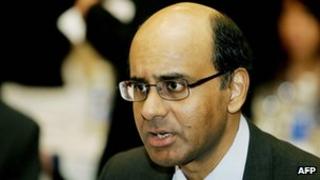 Singapore has said it will impose more limits on numbers of foreign workers and has called upon businesses to help upgrade skills of the local workforce.
The limits include more levies on firms that employ low-skilled foreign workers, a cut in foreign worker quotas and stricter qualification guidelines.
Finance Minister Tharman Shanmugaratnam announced the moves as he unveiled the budget for 2013.
The foreign workers debate has become a hot political issue in Singapore.
Criticism of Singapore's immigration policy has become more vocal recently, with many locals blaming it for a rise in property prices and living costs.
In his budget speech, Mr Shanmugaratnam said that while the foreign worker inflow had been "too high" last year, a sharp reduction was not the best way to go.
"We cannot cut off the flow of foreign workers abruptly but we have to slow the growth," he said.
The finance minister added that the policies were aimed at encouraging businesses to reduce reliance on manpower, and not merely replace foreign workers with locals.
He noted that such a move was the only way to improve productivity and avoid an indefinite increase in the ratio of foreigners in the workforce.
The budget comes amid rising concern among locals over the growth in the number of foreign workers in the city-state.
A government white paper on population, presented last month, showed that the country's population may grow by 30% to 6.9 million by 2030.
In the paper, the government said that a key part of the growth would come from foreign workers and immigrants.
However, the white paper was criticised by many Singaporeans and even led to a rare public protest earlier this month.