Arsenal half year profits dip to £17.8m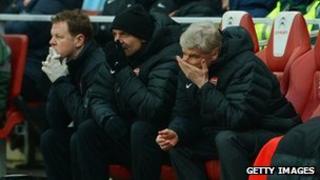 Premier League football club Arsenal saw profits fall sharply to £17.8m for the six months to the end of November despite selling Robin van Persie for £24m.
The club made almost £50m for the same period a year ago.
Despite the profits fall, cash reserves rose to £123m from £115m.
Supporters are pressing the club to invest in new players as it struggles to regain the top four place they consider it deserves.
Profit from trading players was £23.2m, compared with £46.1m for the same period a year ago.
Striker Van Persie was sold to Manchester United, with the likes of Lukas Podolski, Santi Cazorla and Olivier Giroud joining the Gunners.
Arsenal's chairman, Peter Hill-Wood, defended the club's strategy.
He said: "Our ability to compete at the top of the game here and in Europe is underpinned by our financial performance which gives the club strength and independence.
"We know that comes through winning trophies but also through the way we do things and that will remain our constant guide."
The Arsenal Supporters' Trust (AST) said the club needed to spend more to compete with the top teams.
"Arsenal fans have contributed to this financial health through paying some of the highest ticket prices in world football," read a statement. "AST members want to see this money used for more, and better, investment in the team."
The Gunners, who lie fifth in the Premier League table and have made the last 16 of the Champions League, have not won a trophy since 2005.
The club is majority-owned by US sports billionaire Stan Kroenke.