Vivendi profits fall as SFR revenues drop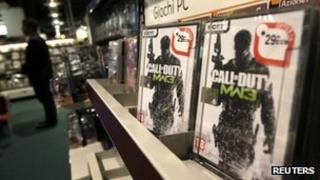 French media and telecoms giant Vivendi has seen its profits fall, but its results still beat analysts' forecasts.
Adjusted net profit for the fourth quarter of 2012 fell 17.8% to 356m euros (£306m), while for the full year it fell 13.6% to 2.55bn euros.
The group highlighted an "exceptional year" from its Activision Blizzard video games business.
But its SFR mobile unit saw revenues fall 7.3% in the year as it is still adapting to regulatory price cuts.
In August, Vivendi said it would cut jobs, as SFR struggled.
Overall revenues for the quarter rose 5.9% to 8.24bn euros, and for the year edged 0.6% higher to 28.99bn euros,
"Despite a challenging economic environment, all Vivendi subsidiaries reached their outlook in 2012," said chairman Jean-Francois Dubos in a statement.
"Faced with new market conditions and intense competition, some subsidiaries also reorganised their operations and put in place cost reduction programs.
"Activision Blizzard delivered an exceptional year thanks to a series of successful launches."