Italian election puts euro crisis back on the menu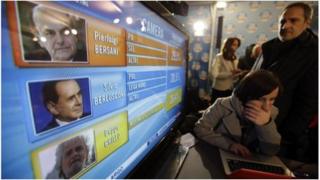 Fears about the eurozone are back on the financial markets' after a few brief months of belief that the worst was past.
Investors fear political uncertainty in Italy will delay its efforts to reform its economy and cut its debt levels.
The outgoing government was trying to lay the foundations for economic growth and to strengthen the public sector finances.
But these plans have been rejected by those in the electorate tired of tightening their belts. And with no clear majority it will be difficult to form a new government with an agreed programme.
Italy's large government debt is a problem for the eurozone as a whole, so the currency has fallen along with shares across Europe. Other moves in the markets suggest Italy's borrowing costs could rise.
Here are a selection of views from market commentators.
'Market crisis danger'
Paul Mortimer-Lee, global head of market economics at BNP Paribas:
The Italian people have rejected the guy that the market liked, Mario Monti. What they have voted for is much less certain, unless it is uncertainty itself.
Markets hate uncertainty and they will take against this vote in a serious way. It is very bad for Italian growth, firms will delay investment, households will delay big purchases, foreigners will put less money into Italy, the ratings agencies will be thinking "'do we downgrade Italy?" and the Italian borrowing costs will rise substantially.
This is going to knock 0.5% to 1% off Italian growth this year, and this is an economy that is already shrinking. At the end of the day there is no alternative to the austerity and the fiscal prudence that the European Union wants to see from its members.
The question is, how do they get the Italian people to realise that? It is clear the politicians won't offer that up to them on a plate, as it is a recipe for being rejected. So the danger is we have to go back into a market crisis so that the Italian people will get up close and personal with the realities for the situation.
'Angrier and hungrier'
Annalisa Piras, Italian journalist and documentary maker:
This is very worrying for other countries because what the voters have said clearly is they will punish very harshly anyone who goes for austerity.
The stark warning from Italy is that the voters are getting angrier and hungrier. There is a lot of poverty which is a part of this vote [result].
But it looks like there is not really an alternative. Whoever is in government will have to keep with austerity path set by Mario Monti.
'Forced to ask for help?'
Ben May, European economist, Capital Economics:
The inconclusive outcome of the Italian election looks set to prompt a renewed bout of market pressure which may eventually force Italy to request a support package from the eurozone.
Given the particularly bleak economic backdrop for Italy and the growing risk that the next government will at best have a limited mandate to continue the reform process begun by Mario Monti, we would not be surprised if a sustained bout of market pressure were to force Italy to eventually to request some form of support package.
'Risk of prolonged impasse'
Barclays Economics Research, European desk:
Political instability is likely to prevail in the near term and slow the implementation of much needed structural reforms unless a grand coalition among the PD (centre-left), PDL (centre-right) and CC (centre) parties is formed.
While important steps have been taken so far by the outgoing technocrat government to regain credibility among the financial markets and European partners, Italy cannot risk being trapped in a political impasse for too long, in our view.
Should that condition persist and the parties not be able to agree on a grand coalition, we think the likelihood of Italy applying for a precautionary credit line would increase.
'Not the only bad news'
Jane Foley, Rabobank:
The optimism that carried asset prices higher of the start of the year has been given a sharp wake up in the shape of the Italian election result.
Events in Italy, worrying though they may be, are not the only piece of bad news in the markets. Though it is possible that the worst of the downturn may be past in Germany, recession persists in the eurozone and in Japan. The US, whilst in recovery mode, faces the prospect of a dose of fiscal austerity on March 1 which could shave 0.5% of GDP this year.
The results of the Italian election might therefore be a catalyst for markets to question last month's optimism, but it is not the only reason.
'Major blow to austerity'
Open Europe, a Brussels-based think tank:
[The majority] of Italians voted for parties that explicitly oppose austerity and, in a major upset, the Five-Star Movement led by comedian Beppe Grillo - who has called for a referendum on whether the country should leave the single currency - received over 25% of the vote.
Outgoing Prime Minister Mario Monti's list mustered less than 10% of votes in both houses.
Although Italians remain pro-EU, this election was a major blow for the Brussels cash-for-austerity consensus, and any plans for structural reform in Italy are likely to be put on ice.
'Italy ungovernable'
Ishaq Siddiqi, ETX Capital:
Peripheral bond yields, particularly Italy's 10-year and 5-year are reaching for the ceiling again.
What is more worrying for investors is that the political deadlock in Italy would suggest that even if we do see a market-friendly scenario materialise with a reform-minded government taking control, the fact that Silvio Berlusconi managed to gain such an influence with his anti-austerity campaign means that we are likely to see a rise in civil unrest in Italy.
Italy is at present ungovernable and that may be the case for some time, so long as Italians are this divided on austerity.
The pressure this places on peripheral bond yields will also raise the spectre of bailouts for Italy but particularly Spain with markets of the opinion that if the Spanish 10-year pushes above the 6% mark, this would raise alarm bells and force the hand of the government to request a bailout from the ECB.