Jack Lew closer to Treasury Secretary appointment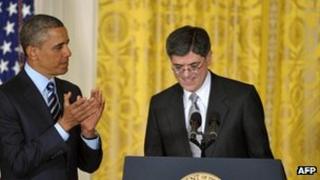 Jack Lew is poised to become the next US Treasury Secretary after gaining approval of the Senate's influential finance committee.
He will face a vote in the full Senate later this week, paving the way to replace Timothy Geithner.
Mr Lew, most recently White House chief of staff, has been nominated by US President Barack Obama.
The Democrat-controlled committee voted 19 to 5 in favour of Mr Lew.
Mr Lew is due to take up his post amid tense negotiations between the White House and congressional Republicans.
They are squabbling over a series of spending cuts know as the sequester, which would suck away $85bn of spending from the US economy in one year, split between defence and domestic programmes, with a total of $1.2 trillion reductions until 2022.