Concerns over women's pension rights raised with MPs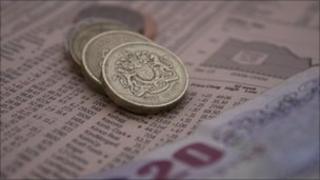 Concerns have been highlighted to MPs about the rights of many women to a new "simpler" flat-rate state pension.
Under government plans, there will be an overhaul of the state pension, aimed at giving certainty over payments.
Instead of a basic pension of £107 a week plus various means-tested top-ups, recipients will get £144 in today's money from 2017 at the earliest.
But a committee of MPs has heard some women, instead of being helped by the reforms, still "fall through the gaps".
'Transformed'
The Department of Work and Pensions (DWP) committee has been hearing evidence from experts about the state pension plans for the first time.
Current pensioners will not be affected by the changes.
For others, after April 2017, anyone who works, has been claiming benefits for being unemployed, has been looking after children aged 12 or under, or caring for sick or disabled adults, for 35 years will receive a fixed pension of £144 a week when they reach state pension age.
The amount will be lower if they have fewer "qualifying years" of this kind.
Many women's retirement income will be "transformed" as a result of the changes, the MPs were told. The changes would allow them to gain a state pension in their own right, even after intermittent work patterns.
Paul Johnson, director of the Institute of Fiscal Studies, pointed out that those aged in their 50s, who took time out for caring duties, would receive a significant boost under the reforms.
However, those looking after children now would not see the same benefit in the longer term.
"They will end up with less under the new system [than the current one]," he said.
"While they will have more certainty, it does not mean it will provide more income."
Under established plans, the state pension age is rising to 66 for both men and women by 2020, with further plans for this to increase to 67 between 2026 and 2028.
Pensions experts Baroness Hollis and Ros Altmann told the committee that until the new reforms came in, some women retiring at younger ages than men, such as 63, before 2017 would retire on a lower state pension than the new flat-rate level.
Baroness Hollis said that some consideration should be given to allowing women in this situation to delay their retirement until the new system comes into force.