Sony sells Tokyo 'holy land' building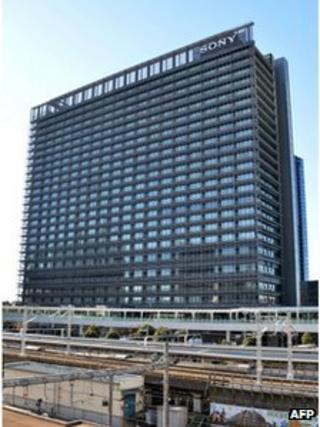 Sony has sold one of its landmark Tokyo buildings for 111bn yen ($1.2bn, £790m) - its second high-profile property deal this year.
The 25-storey building, which is near the company's Tokyo headquarters, was built on the site once known as the company's "holy land".
The building was completed in 2011 and houses 5,000 workers at the TV and audio centre. It was the site where the pioneering Trinitron TV was launched.
Sony recently sold its US headquarters.
Nippon Building Fund will have a 60% stake in the building, with another unnamed investor taking a 40% interest.
Sony will remain in the building for the next five years.
Sony needs to raise cash. The sale of the Tokyo building will add 41bn yen to its operating income for the fourth quarter of the year.
The US building will bring in about 70bn yen after debts have been repaid and will also record a windfall profit in its accounts, as that building is being sold at a gain of a similar amount above the price Sony originally paid for it in 2002.
The company has faced a number of challenges in recent years.
Like other major Japanese manufacturers, such as Panasonic and Sharp, it has not been helped by the yen, which continued to strengthen before, during and after the 2008 financial crisis and has only recently begun to lose some of its value.
Competition from other firms outside Japan, notably Samsung in South Korea, has also hit hard.
In November, Sony had its credit rating downgraded to "junk" by Fitch - indicating that the ratings agency has serious doubts about whether Sony will be able to repay its debts.