Geneva motor show: New car marque unveiled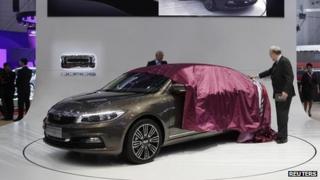 A carmaker that has never before seen the light of day has emerged at the Geneva motor show.
With one production model and two concepts for future cars on display, Qoros hit the ground running, preparing for expansion even before having sold a single car.
Launching the new marque in Geneva, at the most important annual industry event in Europe, is central to the company's strategy.
But not for any obvious reasons, such as a desire to win over European customers.
Instead, some sort of convoluted, roundabout logic is at play here.
"Our main target is the Chinese market," explains the company's head of sales, marketing and product strategy, Italian Stefano Villanti.
"But Chinese consumers like buying European products."
European team
The cars carrying the Qoros badge - indeed, even the badge itself - have been designed by Gerd Volker Hildebrand.
"In car styling terms, he's a rock star," according to Just-Auto's Mark Bursa, who describes Mr Hildebrand's Mini design as "one of the biggest hits of recent times".
Mr Hildebrand is part of a European team of motoring executives and experts with extensive experience from mainstream brands, including Volker Steinwascher, who used to be in charge of Volkswagen in North America and is now the vice president of Qoros.
Between them, the company's engineers and designers have come up with the Qoros 3, their launch product at the Geneva show, which will go on sale later this year in the market segment where the Volkswagen Golf is the leader.
And it doesn't stop there. There are also two concept cars offering a vision of what will come next, as Qoros prepares to launch a new car every six months for the foreseeable future.
The cars will be based on a modular platform that makes it relatively easy for the carmaker to vary its model offering, and they will all come with an extensive range of luxurious features as standard - including an infotainment system developed in-house.
"They're all European products," says Mr Villanti. "The company has European management and European engineers."
Chinese cars?
So is Qoros a European carmaker? The answer is not clear.
The company is owned jointly by the industrial investor Israel Corporation and the Chinese carmaker Chery Automotive, whose chief operating officer serves as Qoros president.
And its cars will be made in Changshu in China, in a new factory that will initially have enough capacity to produce 150,000 cars each year, with the possibility to expand to 250,000 and then extend the building to raise capacity to 450,000.
In other words, there are no plans to produce the cars in Europe.
Nor will the company offer right-hand drive vehicles for the UK market, at least not yet, and it is not planning to make cars with diesel engines.
"China doesn't like diesel," says Mr Volker, while Mr Villanti acknowledges that "without diesel, the market in Europe is very small".
European sales should account for about 10% of production, he predicts.
Not cheap
Low European sales volumes are not deemed a problem, however, as Qoros sets out to establish itself well above the budget brands currently selling well in austerity-hit Europe. The Qoros 3 will cost between 16,000 euros ($20,881; £13,826) and 20,000 euros.
"We're not on the same page as the cheapest marques," says Mr Volker.
At some point, the company even considered acquiring a so-called "European heritage brand" used on cars that have long since disappeared from the market.
But they decided against it as, in the words of Mr Villanti, "it doesn't make sense to develop a car for modern, metropolitan consumers with a brand from World War I".
"Creating a new brand with no obvious 'Chineseness' gets around the perception problem that Chinese brands are low-cost brands," says Mr Bursa.
But whether that is enough to convince Chinese car buyers that Qoros is in fact European remains to be seen.
You can follow Jorn Madslien's coverage from the Geneva motor show on Twitter @jornmadslien.