House prices up 0.2% in February, says Nationwide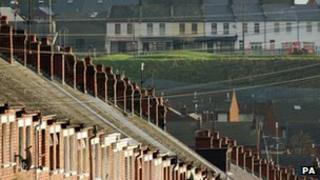 UK house prices rose by 0.2% in February compared with the previous month, but were the same as a year ago, the Nationwide has said.
The building society said that the average UK home cost £162,638.
The figures, based on its own mortgage data, signalled the lack of movement in prices in the last two years, it said.
But there were "tentative signs" of a pick-up in activity in recent months owing to the relative strength of the jobs market.
"While the economic backdrop remains challenging, there are reasons for cautious optimism that activity will gather momentum in the months ahead," said Robert Gardner, Nationwide's chief economist.
"In particular, employment is rising at the fastest pace since the late 1990s which, if maintained, should help support demand for homes.
"However, progress is likely to be gradual, as stubbornly high inflation will continue to exert pressure on household budgets."
The interactive content on this page requires JavaScript
Buyer confidence was "fragile", he added, even though mortgage rates had become cheaper as a result of the Funding for Lending scheme (FLS).
FLS is a scheme run by the Bank of England which, since last August, has been offering cheap funds to banks and building societies, on condition they then lend the money to personal and business customers.
However, figures from the Council of Mortgage Lenders have suggested a sluggish start to the year in terms of mortgage activity, which could feed through to house prices later.
This was confirmed by figures from the Bank of England, also published on Friday, which showed that £147m was added in January to the total amount borrowed in mortgages. The total outstanding mortgage debt stands at £1.2 trillion.
This was considerably less than the £877m added in December, and lower than the average seen in the previous six months of £500m.
The number of mortgage approvals for house purchases stood at 54,719 in January, down on the 55,632 seen in December, but slightly higher than the average of the previous six months.