Lloyds losses narrow to £570m in 2012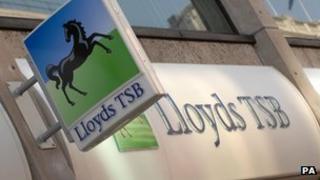 Lloyds Banking Group has narrowed its pre-tax losses for 2012 to £570m, from £3.5bn the previous year.
The group, which is 40%-owned by the government, said its losses were primarily because of making provisions of £3.6bn for the mis-selling of payment protection insurance (PPI).
This included £1.5bn set aside in the fourth quarter for PPI.
Chief executive Antonio Horta-Osorio was awarded a bonus of £1.5m in deferred shares.
These shares will not be released until 2018, Lloyds said, and only if the government sells at least a third of its stake above 61p - the price at which the stake is booked on the national accounts - or if the share price stays above 73.6p for a given period of time.
Shares in Lloyds have more than doubled in value since May last year. On Friday, its shares dipped 2% to close at 53.25p.
"I came here with the main objective of getting taxpayers' money back and, therefore, I thought it would be appropriate to make my bonus entirely conditional to us getting to the taxpayer entry price," Mr Horta-Osorio told journalists.
The total bonus pool at the bank fell 3% to £365m.
Last month, Lloyds chairman Sir Winfried Bischoff said that employees' bonuses this year would be the "lowest undoubtedly of any bank".
'Ahead of plan'
On an underlying basis, which excludes one-off items such as the PPI provisions, Lloyds' profit more than quadrupled from a year ago to £2.6bn.
"The substantial progress we made in 2012 means that we are now ahead of our plan to transform the group, and this was reflected in our stronger underlying financial performance in the year," Mr Horta-Osorio said in Lloyds' annual results statement.
Last Updated at 23 Feb 2018, 16:30 GMT
*Chart shows local time
price
change
%
68.65 p

-

-0.53

-

-0.77
"Since setting out our strategy in June 2011, we have significantly strengthened the balance sheet and substantially improved efficiency and focus, while continuing to work through legacy issues.
"We are investing in our simple, lower-risk, customer-focused UK retail and commercial banking model, and in value-for-money products and better capabilities to continue to support UK households, businesses and communities."
He added that the bank was continuing to make good progress on the sale of more than 600 branches to the Co-operative, despite recent reports that the deal was under threat because the Co-op was facing a capital hole of £1bn.
The branches, grouped together under the name Verde, will be operating as a separate business within the Lloyds group under the TSB brand by this summer. European authorities have ordered Lloyds to sell the branches by the end of November this year.
Mr Horta-Osorio also said he was "very confident" that taxpayers would recoup their cash, though declined to comment on reports that the government is getting ready to start offloading its stake in Lloyds when shares reach the 61p break-even level.
A Treasury spokesperson said: "The government's strategy remains to see Lloyds continue the progress it has made in reforming itself into a strong and sustainable bank that supports the British economy, which in time can be returned to full private ownership.
"Today's results show that it is making strong progress in improving its core underlying performance and strengthening its balance sheet, but that there is still work to be done as it continues to deal with the legacy of the past."
Former investment banker Heather McGregor told the BBC that the figures provided good news for the government.
"We hear that the government is looking to exit sooner rather than later, and if I was the government I would be doing that. I'd be looking at these figures going 'yes, I can get my money back much quicker'," she said.
Mis-selling costs
Lloyds is the UK's biggest retail bank and has now set aside about £6.8bn to cover PPI mis-selling.
Last week, it was also fined £4.3m for delaying compensation payments to customers.
The consumer association Which? said Lloyds' latest update took the total amount set aside for PPI by the industry to £15.6bn.
In its results statement, Lloyds also said it had increased its provision for mis-selling interest rate hedging products to small and medium-sized business to £310m in the fourth quarter, taking its total provision for these products to £400m in 2012.
Lloyds also said it was being investigated by authorities in the UK, US and elsewhere over submissions it made to the setting of the Libor rate and that some of the group's companies had been named as defendants in private lawsuits, including purported class action suits in the US.
But it said it was "currently not possible to predict the scope and ultimate outcome of the various regulatory investigations or private lawsuits".
However, Lloyds' finance director George Culmer said the bank was not being targeted by regulators.
Barclays, Royal Bank of Scotland and UBS have all been fined hundreds of millions of pounds for manipulating the key Libor rate, while several other banks are also under investigation.