Will tax breaks draw a line under British animators' UK exit?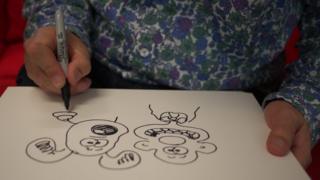 The UK animation industry is about to receive a long-awaited boost, but is it too late to claw back the talent already lost to production houses overseas?
"It is the determined policy of this government that we keep Wallace and Gromit exactly where they are," declared a rather animated chancellor in his Budget speech a year ago.
He was, in part, reacting to the statement made by Bristol-based firm Aardman, who said they were considering moving production of their trademark stop-frame animation abroad, because costs in the UK were not competitive enough.
The organisation Animation UK - set up in 2010 to protect the interests of the animation industry - had also been lobbying at local government level and had gathered a lot of support.
There are about 4,500 animators working in the UK, making films, TV commercials and programmes for both adults and children.
And according to Animation UK, 76% of those animators have, at some point, considered moving abroad. In fact, they say that in the space of five years (2003-2008), the amount of work that originated in the UK that was still being made in the UK, fell from 85% to just 23%.
For a number of years, countries such as Ireland, Canada and the US have offered favourable tax breaks of about 25% to those working in the "creative industries" - the category used to describe big-budget television programmes, animation and video games.
Programmes such as Bob The Builder, Noddy and Thomas and Friends - all conceived in the UK - have already jumped ship. Who could blame them?
"The company that produce Bob The Builder really were under pressure from shareholders to bring in increased profits," says Oli Hyatt of Animation UK and Blue Zoo Animation.
"You can't blame people for looking at ways of funding their programmes in better ways."
By imposing tax incentives, regional quotas and technology quotas, Canada began to lead the way - and in Quebec province, games developers are offered a staggering 37% tax credit.
But for a country to make this kind of commitment, it must recognise the value of the industry itself.
That is where some people in the animation business in Britain, think the UK government have been slow.
"Each individual MP lives in his own little world and he has to come out of it and find out what animation is about," says Brian Cosgrove, who has made lots of animated films for children, including Dangermouse and Count Duckula.
Cosgrove highlights the "startling changes" that have happened in the past few years in the animation business - in particular the enormous amounts of money that can be made from merchandising.
Peppa Pig merchandise has a turnover of billions of pounds worldwide.
"Animation is a business," argues David Sproxton, co-founder of Aardman. "We're always having meetings where we say: 'How do we get the cost down? What's the potential for getting this back?"
And putting profit-churning thoughts aside, there are many in the industry who worry that if tax credits are not given to British animators, there will be nobody to teach promising young talent in the UK, or to give them jobs.
"If the animation industry died in the next 10-20 years," says illustrator and cartoonist Gerald Scarfe, "there would be no-one to teach the young ones."
Hyatt agrees: "The worry is, once you've started sending these animations overseas, the next generation of animators can't get a job because there's no animation to do. If that feeder pool isn't coming in… that's when the industry dies."
Tax relief for British animators will be introduced in April 2013 - and will be set at a level described by the chancellor as "among the most generous available anywhere".
"We listened," says Ed Vaizey, Minister for Culture. "It's a rare example of government hearing an argument and acting.
"Other countries are desperate to download creativity - and they all look to the UK. There is a race to keep that talent… and the tax breaks put us back into a very competitive position."
But will that great spread of British talent be too difficult to reassemble?
Hyatt is optimistic: "I think these tax breaks will double the size of the industry instantly. There'll be twice as many jobs in animation in the UK by this time next year. There are loads of good courses in this country."
"I think animators will come back," agrees Scarfe. "The tax breaks will do a lot of good. The more animators get, the better."
Wallace and Gromit creator Nick Park believes the UK provides a special environment for animators. "I think we do think of ourselves as a bit of a Rolls-Royce. We like to do it in Britain the old-fashioned way."
"We've been looking backwards for so long," adds Hyatt, "now is the time to look forwards."