Bertelsmann takes full control of BMG music rights unit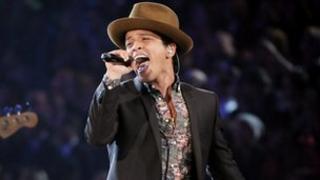 Bertelsmann, Europe's largest media company, is buying out its partner in music rights company BMG.
The German group said it aimed to purchase the 51% stake from private equity group KKR by the end of June as one of its moves to grow its business further.
Bertelsmann sold its share in its recorded music unit, Bertelsmann Music Group (BMG), to Sony in 2008.
It is best known for its TV arm RTL and publisher Random House.
'A great day'
Under the 2008 Sony deal, the firm kept a small stable of European artists.
In 2009 Bertelsmann went into an alliance with KKR, retaining a 49% stake in the business.
Chairman and Chief Executive Thomas Rabe said that taking full ownership of BMG Rights was an important step in putting the group's growth strategy into practice.
"A few years after our exit from the traditional music business, in association with KKR, we have succeeded in building the world's fourth-largest music rights management business. This is a great day for Bertelsmann. We are bringing the music home to our group."
"The use of music has never been as high as it is today, not least because of the streaming technology. This (BMG) is a business with robust growth potential," he said.
In September last year Mr Rabe said he planned major acquisitions and strategic partnerships to accelerate growth in a bid to reduce the company's dependence on Europe and the shrinking advertising market for newspapers and magazines.
Music rights companies as well as educational and scientific book groups are among potential targets.
Will.i.am
BMG oversees the fees from radio stations and advertising companies as well as the key growth area of online music shops.
It manages the rights to more than a million songs, including works by artists like Frank Ocean, Bruno Mars and Will.i.am.
Johannes Huth, head of KKR Europe, said: "Our innovative partnership with Bertelsmann, which combined the professional expertise of a global media company with the financial strength, network and business-building expertise of KKR, was a complete success."
Although the terms of the deal have not been disclosed, the Financial Times says the German group could pay up to 500m euros (£433m, $651m).
The BMG sale is KKR's second media divestment in roughly two weeks.
In mid-February, KKR and peer Permira raised 485 euros in the sale of shares in German broadcaster ProSiebenSat.1, the first step towards their complete exit from the media group.