Apple legal challenge dropped by Einhorn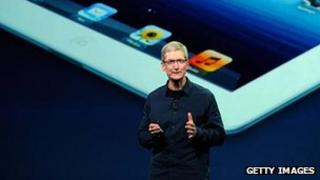 The hedge fund manager David Einhorn's Greenlight Capital has withdrawn his legal attempt to get Apple to release some of its huge cash pile to shareholders.
Mr Einhorn had wanted the iPhone and iPad maker to create a new class of special preferred shares.
Apple originally said it would only do this if all shareholders were given a vote on the plan, but has since dropped this idea.
Apple shares fell to a 52-week low.
The shares fell to $430.47 in trading on Friday.
The price has fallen 35% since peaking in September.
On Wednesday, Apple withdrew the proposals for a shareholder vote on the preference share matter, making the legal battle unnecessary.
Apple is sitting on a $137bn (£91bn) cash pile that some shareholders would like to see put to work.
The sum is the equivalent of Hungary's annual gross domestic product.
Mr Einhorn's Greenlight said in a statement: ."Apple removed the bundled proposal from the shareholder meeting, therefore resolving the issue."
Apple's chief executive, Tim Cook admitted at the company's annual shareholder meeting on Wednesday that he was aware of widespread disappointment among investors.
He said he was actively looking for ways to reward shareholders.
He gave no details, but said the company was working on a pipeline of "great stuff".
Some investors are worried that Apple may be losing its edge and the pipeline of stand-out products may have run dry.
Apple has seen its share price fall from a record $702.10 on the back of disappointing sales and worries about competitors such as Samsung. On 14 March, Samsung will launch the Galaxy SIV, the version of its flagship smartphone