Warren Buffett says last year sub-par for Berkshire Hathaway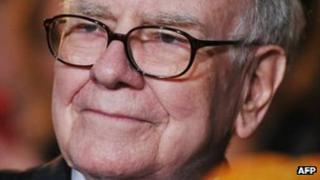 The legendary investor Warren Buffett has told shareholders in his annual letter that last year was below standards for the investment guru's funds.
His comments came despite a 45% increase in profit for his Berkshire Hathaway investment business.
The value of his vehicle lagged behind the overall market.
Mr Buffett said that 2012 was only the ninth year of the past 48 years that he failed to beat the S&P 500 index.
However, Mr Buffett said he had reloaded his "elephant gun", a reference to a previous comment in 2011 that he was using such a weapon to look for acquisitions. .
He said: "We still have plenty of cash and are generating more at a good clip. So it's back to work; Charlie [Munger, the company's vice chairman] and I have again donned our safari outfits and resumed our search for elephants."
He also went into some detail about his policy of not paying dividends to shareholders - a practice deemed normal by any other business that has moved beyond the start-up phase.
He took three pages of the 24-page later to explain his position, which is that his shareholders do better through his investment of profits than they would through receiving a share of them as they are made: "I have made plenty of mistakes in acquisitions and will make more.
"Overall, however, our record is satisfactory, which means that our shareholders are far wealthier today than they would be if the funds we used for acquisitions had instead been devoted to share repurchases or dividends."
He said though that he would revise the policy if conditions merited it.
Berkshire's profits last year were $14.8bn (£9.84bn), up from $10.3bn the previous year.
Most of the gains came from paper rises on its investments and derivative contracts.
Without those, operating profits rose by a lesser 17% to $12.6bn.
Berkshire Hathaway's latest high-profile investment was in the food company, Heinz , investing $12bn.
The Federal Bureau of Investigation (FBI) is joining an investigation by the into suspicious trades ahead of that takeover after unusual trading activity in the shares was noticed the day before the deal was announced.
The US financial regulator, the Securities and Exchange Commission (SEC), is already suing unnamed traders for insider dealing.