Bank of Ireland makes 1.8bn-euro loss in 2012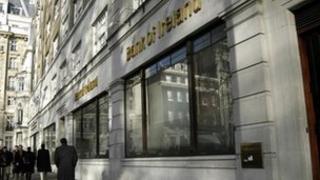 Bank of Ireland has recorded a loss of 1.8bn euros (£1.6bn; $2.3bn) for 2012.
The lender saw little respite in the rate at which it had to write off bad loans due to the property crash.
The bank took 1.7bn euros in impairment charges, versus 1.9bn in 2011, of which 462m euros was on mortgages and 797m on construction and property loans.
These charges dragged the 15%-state-owned bank into the red for the year. In 2011 it turned a 40m-euro profit thanks to a debt write-off.
The agreement by the Bank of Ireland's lenders to accept shares in lieu of the money owed to them generated a one-time gain of 1.8bn euros in 2011, which masked what would otherwise have been an equally dreadful year for the bank.
Chief executive Richie Boucher said 2012 had been "another challenging year", but added that the group had made "good progress" against its objectives including rebuilding profitability.
Mr Coucher said there were signs of stabilisation in the Irish economy, with modest growth in economic output and a levelling off of unemployment.
As a result, the number of customers defaulting on mortgages and loans was still going up, but at a slower rate, the bank said.
Last month, Bank of Ireland was criticised for increasing the interest rate on its Base Rate Tracker mortgages, despite the official rate remaining at 0.5%.
Some 13,500 borrowers with mortgages from Bank of Ireland and its subsidiary Bristol and West will see their rates almost double.
This move stemmed from attempts by the group to increase the money it makes on loans and deposits, which fell in 2012 to 0.96% from 1.01% a year earlier.
In its statement, the group said that changes such as cutting the interest its pays on customer deposits, as well as increasing its standard variable rate on UK mortgages by 1.5 percentage points, had improved margins towards the end of the year.
The bank was also hit by the cost of redundancies, which totalled 150m euros. About 1,200 employees - 9% of staff - had taken voluntary redundancy since May. More staff are set to leave in 2013, it said.
Last August, Bank of Ireland extended its deal to provide its financial products via the UK Post Office for another three years, to 2023.
The value of customer deposits rose from 16bn to 19bn euros during the year, exceeding expectations.