Paddy Power has 'strong year' in 2012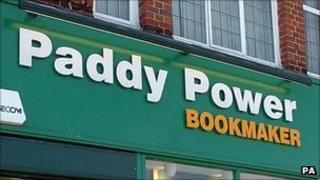 Bookmaker Paddy Power has reported "another strong year" after seeing a rise in both profits and revenue.
Pre-tax profit for 2012 rose 15% to a record 139.2m euros (£120m). Revenues rose 31% to 653.8m euros, or 25% taking into account currency movements.
But the group said if current exchange rates continue, operating profits this year could be reduced by 10%.
Both the pound and the Australian dollar have weakened considerably against the euro since July.
The group added that trading in January and February had been strong, benefiting from favourable sports results.
Online growth
Patrick Kennedy, chief executive of Paddy Power, said online had gone from "strength to strength".
"The adoption of mobile across our markets, combined with our e-commerce capabilities, technology and brand, means we now have nearly twice as many active online customers than we had in 2010," he commented.
The number of active online customers grew 44% to 1.6 million.
Net revenues from online operations grew 31% on a constant currency basis to 410m euros, with particularly strong growth in mobile, up 185% to 129m euros.
The company also announced that co-founder David Power would retire from the board after the 2013 annual general meeting.