Legal & General reports strong profits and sales growth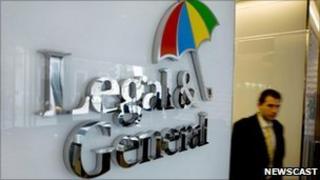 Insurer and investment group Legal & General has raised its dividend 20% after reporting a strong rise in profits and record sales for 2012.
Pre-tax profits rose 9% to £1.04bn, on sales up from £1.8bn to £2.1bn.
Chief executive Nigel Wilson said that the "uncertain, sluggish economy has had a minimal impact" on business.
The ageing population, cuts in state welfare spending, and contraction of the banking sector were all helping to drive business growth, he said.
"Our expertise, scale and synergies enable us to provide solutions to these challenges, placing us squarely among the beneficiaries from these structural changes," Mr Wilson said.
L&G is seeing a growing demand for annuities and other pension products as the "baby boomer" generation approaches retirement age.
Shares in L&G have risen 35% in the past year, outstripping a 9% rise in the FTSE 100.