Dreams beds stores and jobs saved by investment firm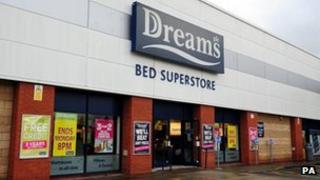 The majority of Dreams beds stores have been bought by Sun European Partners, saving 1,600 jobs, one day after the company went into administration.
The investment company has bought 171 of the company's outlets, leaving 95 still at risk.
These stores, which employ 400 staff, will continue to trade while a buyer is sought for them.
Sun is also buying Dreams' head office in High Wycombe, Buckinghamshire, as well as two UK factories.
The new owner will honour customer orders where deposits have been made, as well as warranties.
Home furnishing companies are joining High Street retailers in administration as consumers increasingly struggle with stagnant wages and rising prices.
This week, Axminster Carpets went into administration.
Other high-profile consumer businesses that have hit trouble include electrical retailers Comet, photography chain Jessops, and the entertainment outlets HMV and Blockbuster.
'Depressed' environment
Alan Hudson, from Dreams' administrators Ernst and Young, said: "High Street retailers have faced unprecedented conditions over recent years and the market for higher value discretionary purchases has been particularly tough.
"Dreams is a well-known market leader, but in common with many others has suffered as a result of this depressed retail environment, a rapid expansion of its store portfolio and onerous lease liabilities."
He added that sales and profit margins had both been depressed.
The business was founded in 1986 by Mike Clare, who sold the business to a private equity investment firm in 2008 for £200m.
It has two factories, one in Oldbury in the West Midlands and the other in Warrington, Cheshire.
Sun European Partners, which was founded in 1995 and is based in the US, has investments in more than 315 companies around the world.