Business group BCC cuts its UK growth forecast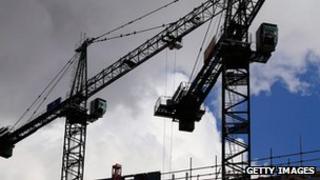 Business groups have warned of continuing tough conditions in the UK economy.
The British Chambers of Commerce (BCC) has cut its economic growth forecast for this year to 0.6% from 1%.
UK manufacturers also said conditions remained difficult, with weak market conditions both home and abroad.
The warnings came ahead of the Bank of England's decision to hold interest rates at 0.5% and keep its programme of quantitative easing (QE) unchanged.
Interest rates have now been at their record low level for four years and no change by the Monetary Policy Committee (MPC) had been expected.
However, there had been speculation that the MPC might increase QE. At February's meeting, Bank of England governor Sir Mervyn King wanted to increase QE by £25bn to £400bn, but was outvoted.
Manufacturers' gloom
The latest predictions from the BCC also cut its growth forecast for 2014 from 1.8% to 1.7%. Its outlook for 2013 and 2014 is below the official forecasts from the Office for Budget Responsibility of 1.2% this year and 2% next year.
Despite its lower expectations for growth the BCC warned against greater economic stimulus from the Bank of England, calling any increase to QE "unnecessary and unduly risky".
The BCC said it expected another £50bn would be added to the QE programme, but said that would probably come in May, while it expected interest rates to stay at their historic low of 0.5% until the end of next year.
Meanwhile the manufacturers' organisation the EEF has warned that tough conditions are continuing for UK manufacturers.
It also revised down its forecasts for GDP and manufacturing growth, saying it had been a "gloomy six months" for the sector, but said its survey of manufacturers suggested sentiment may improve over the next six months.
Wages squeezed
Despite the growth downgrades, the BCC predicted that GDP would grow by 0.1% in the first three months of this year, which means the UK would avoid a triple-dip recession by a small margin.
"We expect quarterly growth to increase very gradually over the next two years, but it will remain modest and below-trend for some time," said David Kern, chief economist at the BCC.
"In addition, we now expect GDP to return to its pre-recession levels early in 2015, and the squeeze on living standards will continue for a while longer."
Reflecting that squeeze, the TUC published a report on Wednesday suggesting that UK wages have fallen faster in real terms than any other developed economy since the beginning of the economic crisis.
The study said that between 2007 and 2011 wages fell by 4.5% in the UK when inflation is taken into account. The bulk of this drop was seen in 2011, the trade union body said, after government austerity measures had come into effect.
"Unless we get stronger economic growth with rising real wages consumer spending will remain weak and the economy will continue to flat-line," said TUC general secretary Frances O'Grady.