Q&A: What is driving the global stock market rally?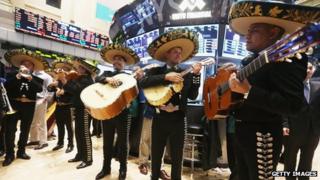 Stock markets across the globe have been on the upswing over the past few months.
New York's main Dow Jones share index has broken through the 15,000 mark for the first time, while Germany's Dax has hit a fresh record high.
London's FTSE 100 and Japan's Nikkei 225 indexes are trading at their highest levels for five years.
What is driving this rally?
It is a combination of factors, but the biggest one has been the aggressive stimulus programmes undertaken by various central banks to boost growth.
The European Central Bank (ECB), the Bank of Korea and the Reserve Bank of Australia have all cut their interest rates this month, while rates in most leading economies are at near-historic lows.
Central banks have also pumped trillions of dollars of new money into the financial markets. And there is no immediate sign of these programmes being wound down.
The Bank of Japan (BOJ) recently increased its purchase of government bonds by 50 trillion yen ($520bn; £350bn) per year, while the US Federal Reserve has kept its $85bn-a-month bond buying in place.
This extra money has driven down the returns on government debt, making other assets, such as shares, more attractive.
"If we are entering into a period where we expect very anaemic growth for, say 5-10 years, and we expect interest rates to remain low for 5-10 years, therefore we expect bond markets to have yields that are very low," says Paul Kavanagh from UK-based brokers Killik & Co.
"Then the earnings yield on equities becomes more and more attractive in that environment."
Last Updated at 05:00 GMT
| Market index | Current value | Trend | Variation | % variation |
| --- | --- | --- | --- | --- |
| Dow Jones | 23273.96 | Down | -54.67 | -0.23% |
| Nasdaq | 6586.83 | Down | -42.23 | -0.64% |
| FTSE 100 | 7524.45 | Up | 1.22 | 0.02% |
| Dax | 13003.14 | Up | 11.86 | 0.09% |
| Cac 40 | 5386.81 | Up | 14.43 | 0.27% |
| BBC Global 30 | 10192.52 | Down | -18.11 | -0.18% |
What about economic fundamentals?
There have been some positive signs in recent economic data that have given investors confidence that the economic recovery in some of the world's largest economies is picking up.
For instance, US employment rose by more than expected in April, with the economy creating 165,000 jobs, while Germany's industrial orders for March were surprisingly strong.
Meanwhile, there are now hopes of a recovery in the Japanese economy, after the newly elected government promised aggressive measures to spur growth.
The aggressive monetary stance taken by the BOJ has helped weaken the yen, which boosts the profitability of Japanese exporters when they repatriate their foreign earnings back home.
The markets have also had some respite from the fact that the risk of a break-up of the eurozone, in the wake of the region's debt crisis, has diminished.
Alec Young, global equity strategist at Standard & Poor's, says shares anticipate the future and the current rise reflects the fact that economic fundamentals are expected to be strong.
"Right now they're not great but markets are betting the US will be stronger in the second half, that Europe will emerge from recession in the fourth quarter and that we'll continue to see soft landing numbers out of China," he says.
Anything else?
Some companies too have huge cash piles sitting on their balance sheets, built up through cutting costs and improving profitability in the downturn.
This makes their stock attractive to investors, as it opens up the possibility of investment in new facilities, research and development, which will improve their performance in the long run, as well as the possibility of dividend payouts to shareholders.
Are there any risks to the rally?
There are always risks. Any data which suggests disappointment in the US economic recovery, for instance, or that shows a bigger-than-expected slowdown in Chinese growth could knock confidence.
So too would an escalation of problems in the eurozone. "The problems in the eurozone have not gone away," says Jeffrey Halley of Saxo Capital Markets.
"People are either choosing to ignore them or are seeing what they want to see," he adds.
In Asia, the big risk is from a conflict between China and Japan, the region's two biggest economies and key trading partners. Trade between the two nations is worth about $345bn (£212bn).
Relations between the two soured recently over a set of disputed islands in the East China Sea, to which both lay claim. This led to anti-Japan protests in China which hurt some Japanese exporters, though sales have since picked up.
But if tensions rise further, it would raise fears of instability in the region and hurt investor sentiment.
Or there could just be a change in general investor sentiment if people start to wonder if equities have come too far too fast in the first few months of the year.
How long could this run continue?
"Sell in May and go away" is the old investment cliché that usually gets trotted out at this time of year, based on the belief that growth at the start of the year is significantly stronger and tails off by the time you get to May.
Indeed, the months from June to September have historically been the weakest months of the year for the S&P 500 index in the US.
But many stockbrokers think that share markets, particularly those in the US and Japan - given those central banks' huge stimulus programmes - could continue to rise over the next few weeks, even months.
Some predict a further 20-30% rise over the next few months.
S&P's Mr Young is more cautious in the short term but still believes the overall upward trend will continue.
"In the near term some consolidation would be likely given the huge moves that we've had this year," he says.
"But looking out through the end of the year we think stocks will be higher than they are today in the US."