ECB keeps rates unchanged at 0.75%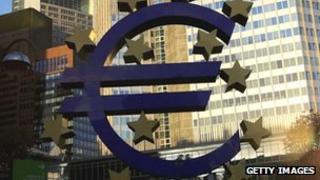 The European Central Bank (ECB) has kept eurozone interest rates unchanged at 0.75% for the eighth month in a row.
Rates have remained at the same level since the ECB cut rates from 1% in July last year.
The ECB's president, Mario Draghi, said they had discussed a rate cut, but the consensus was to leave them as they were.
Many analysts do not expect the ECB to alter rates from their current record low until next year at the earliest.
The decision matched that of the Bank of England, which on Thursday also decided to keep its interest rate unchanged at 0.5%.
Latest figures for inflation for the 17-nation eurozone showed a fall from 2.2% to 2% in January.
The European Commission has estimated inflation in the eurozone will fall to 1.8% this year.
Its target for inflation is "close to, but below 2%".
Widespread austerity and weakening economies have left consumers with little free cash to spend, depressing retailers' ability to increase prices.
Some analysts thought that the drop could leave the European Central Bank (ECB) room to cut interest rates at the March meeting.
Mr Draghi said: "We have discussed the possibility of doing it [cutting rates]. So there was discussion.
"The prevailing consensus was to leave the rates unchanged."
Risks
At a news conference on Thursday afternoon, the president of the ECB, Mario Draghi, said that the eurozone's economy would start to stabilise this year and would pick up in the second half, although downside risks remained.
He said growth could return in 2014, although the forecast range was wide, between 0% and 2% growth.
The range for inflation next year was also wide, with expectations of price rises of between 0.6% and 2%.
Mr Draghi said the need to cut costs would hold back recovery: "Necessary balance sheet adjustments in the public and private sectors will continue to weigh on economic activity.
"Later in 2013, economic activity should gradually recover, supported by a strengthening of global demand and our accommodative monetary policy stance."
Bond yields, the implied price governments pay for borrowing, narrowed slightly, with German prices rising and Italian, Spanish and French falling, suggesting markets saw the current policy as helpful to the eurozone as a whole.
Mr Draghi said he did not think Italy's recent inconclusive elections - which rocked markets - were unduly unsettling, as markets "understand that we live in democracies" and that the initial negative reaction was overdone.
He said Italy had already carried out cuts to reduce the deficit and that would "continue on automatic pilot".
He added that a year ago, the turmoil resulting from the ballot would have been worse.