US trade deficit widens in January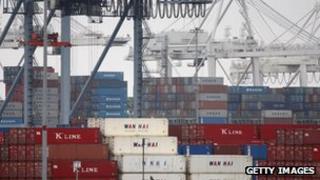 The gap between the value of imports to the US and exports from the US widened in January.
The trade deficit grew to $44.45bn (£29.53bn) in January from December's figure of $38.14bn, the Commerce Department said.
There was better news on unemployment, with a fall in the number of initial claims for unemployment benefits.
The Labor Department said the number of initial claims for state benefits fell 7,000 to 340,000.
The figure had been expected to rise.
The initial claims news will not affect the week's most important economic news, which is Friday's non-farm payrolls figure for February, because the weekly claims figures are for the beginning of March.
Much of the rise in imports came from a 12% increase in imports of oil.
The trade deficit for the whole of 2012 was revised down slightly to $539.5bn, which was 3.6% below the level from 2011.
Analysts said that the trade figures would cut the country's economic growth in the first three months of 2013.
"The sharp deterioration in trade shaves a bit from the outlook for growth in the first quarter," said Diane Swonk, chief economist at Mesirow Financial in Chicago.
"There are signs that domestic demand is firming, which would provide a major offset to weakness abroad."