Construction output drops in January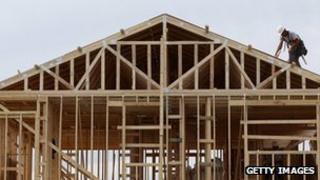 The output of the UK's construction sector dropped sharply in January from a year earlier, figures show.
Construction output for the month was down 7.9% compared with January 2012, according to the Office for National Statistics (ONS).
The figures suggest the sector is continuing to struggle in the UK's tough economic climate.
Construction accounts for just 7% of the UK economy, but the sector's troubles have been a drag on growth.
Last year, its poor performance was blamed for helping to push the economy back into recession.
The figure for the three months from November to January painted an even grimmer picture.
Construction output was down more than 10% compared with a year earlier, with output totalling £6.7bn ($10bn).
The ONS' findings were echoed in an industry survey released on Monday.
Bad weather
The Markit/CIPS construction purchasing managers' index suggested the sector has contracted every month since October last year.
Earlier this week, the UK's biggest construction firm Balfour Beatty reported a 7% fall in annual profits, and warned that revenues from its UK businesses were expected to fall by 20% in 2013.
Chris Williamson, chief economist at Markit, said the snow in the early part of the year may be partly to blame for the poor ONS figures, but said the sector would nevertheless continue to hinder economic growth.
"Bad weather is likely to have played a role in the further weakening of the sector that has been evident so far this year," he said.
"But [the data] raises the likelihood of the sector having acted as drag on the economy in the first quarter."
The ONS's three-month figures showed the volume of new work coming into construction firms fell by 12.7%, driven by large falls in the building of new factories, warehouses, schools and offices.