RBS sells stake in Direct Line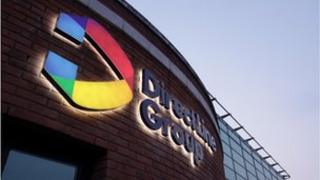 Royal Bank of Scotland is to give up control of Direct Line after selling part of its stake in the insurer.
It said it will sell 229.4 million shares, or about 15.3%, of Direct Line's total outstanding shares.
Direct Line was spun off from RBS last year as a condition for the bank's £45bn government bailout after the 2008 financial crisis.
It comes after Bank of England governor Sir Mervyn King suggested that there is a case for splitting up RBS.
After the sale, RBS's remaining stake in Direct Line will be reduced to 49.99%.
In October, RBS sold 30% of the company for £787m or 175 pence a share, valuing the whole company at £2.63bn.
RBS was forced to sell Direct Line as a European Commission condition for the support the UK government gave the bank after the 2008 financial crisis.
Direct Line was founded 25 years ago.
New-look RBS
Sir Mervyn, speaking to the Banking Standards Commission on 6 March, suggested that it was worth splitting up RBS into the "good bank" and "bad bank" that are already within it.
"The whole idea of a bank being 82%-owned by the taxpayer, run at arm's length from the government, is a nonsense. It cannot make any sense," he said.
"I think it would be much better to accept that it should have been a temporary period of ownership only, to restructure the bank and put it back. The longer this has gone on the more difficult that's become [to return RBS to the market]".
The BBC's business editor, Robert Peston, suggested that to raise more capital, RBS may have to sell even more assets than it currently plans, potentially including the so-called Queen's bank, Coutts.
Recently, RBS's chief executive Stephen Hester insisted that the bank's return to the private sector was on track and could be completed within two years.