High Street retail fund 'barely touched'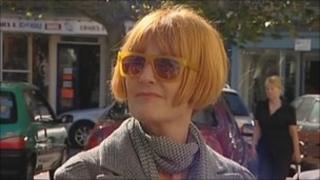 A £10m government fund set up a year ago to help bring empty shops back into use has barely been touched.
The High Street Innovation Fund was part of the government's response to Mary Portas' review of the High Street.
But Freedom of Information requests seen by the BBC suggest that only 7% of the money in the fund has actually been spent.
The money was awarded to 100 councils with the worst affected High Streets in England.
The government told the BBC that it preferred the money was spent "strategically and wisely" rather than quickly and wasted.
The Freedom of Information requests were submitted by the independent retailer, Paul Turner-Mitchell, who also contributed to Ms Portas' High Street review.
Of the 72 councils that responded, 47 said they hadn't spent a penny. So far, just £519,363.22 out of £7.2m has been spent - that's about 7%.
Mr Turner-Mitchell said it was maddening that money continued to sit in council bank accounts when there was a crisis on the High Street. "Looking at these figures you can only conclude that councils are either complacent about the problems on the High Street or they simply don't know what to do about it.
"Either way, ministers need to look at ways of getting High Street funding out to the coalface much quicker," he said.
Councils argue that it's more important getting things right than how quickly the money's been spent. So what about the money that has been spent?
'Very worrying'
Wyre Forest District Council has spent £12,000 on bringing 10 empty shops back into use.
But some of the other projects have been less than inspiring, according to Mr Turner-Mitchell. For instance, one council spent £10,900 on Christmas lights, while another spent £10,038 on a train station ramp.
Meanwhile, Swale Borough Council in Kent spent £164.60 on a snow machine. "It's hardly what Mary Portas would call game-changing stuff. It's very worrying seeing an innovation fund being used for tired, unoriginal ideas," he said.
Swale council said much of its award had yet to be allocated. And it said it was working to encourage footfall and smartening up the beleaguered High Street in the town of Sheerness.
Critics will also point out that when it comes to reviving town centres, £100,000 is small beer, given the scale of the challenges.
Previous revelations
This is the second wave of Freedom of Information requests submitted by Mr Turner-Mitchell.
Earlier, he learnt that the 12 so-called Portas Pilot towns had spent just 12% of the £1.2m. This was the first set of town centres to secure taxpayers' money to test out some of Ms Portas' ideas.
A Department for Communities and Local Government spokesman said: "We are absolutely committed to reviving the nation's High Streets which is why we gave the 100 councils with the highest numbers of empty properties a share of £10m to attract new businesses into their areas.
"We've also given local authorities powers to offer business rate discounts and have simplified planning restrictions to allow new businesses to set up on High Streets.
"We would rather councils spend this money strategically and wisely, to ensure long term success for our High Streets, than rush to spend it and waste taxpayers' money in the process."