Six Nations 2013: Welsh rugby union scores on and off field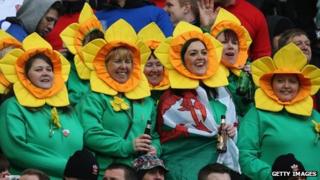 Wales go into their Six Nations rugby union decider against England on Saturday and, whatever the outcome, their chief executive says they have a solid financial and development strategy in place for future success.
Ahead of a game that could see the country grab its third championship in six years, Roger Lewis says the Welsh Rugby Union (WRU) has a sound commercial and grassroots base on which to build.
It latest financial results showed annual turnover of £63m, the highest in its 131-year history, and that turnover had risen by 44% in the past five years.
The governing body - which is responsible for the running of Welsh rugby, including 314 member clubs, the Welsh national team and national leagues and cups - in the past year has been able to reinvest more than £20m into all levels of Welsh rugby and the Millennium Stadium, which it owns.
Meanwhile, it has reduced its debt to its lowest level since the stadium was built in 1999, dipping below £19m for the first time.
'Financial sustainability'
"Those figures are the culmination of seven years of work and teamwork by a number of people on and off the playing field," Mr Lewis, who took the helm at the WRU in 2006, told the BBC.
"When I took over we had to create long-term financial and sporting sustainability, with a clear vision for the WRU, and taking Wales to the world. We have created a virtuous cycle, across the grassroots, [Welsh] Premier [Division], regions, and national team."
He adds: "We have introduced contemporary sporting and financial cultures at the WRU."
Television rights deals, including with both the BBC and Sky to show Rugby World Cup warm-up games, match-day ticket revenue and increased commercial activity were three key revenue drivers in the past financial year.
There have also been an extension of the WRU's agreements with kit manufacturer Under Armour, a new deal for all club rugby balls with Gilbert, a new "pourage rights" deal with Heineken and Brains and renewal agreements with Dove Men Care, carmaker Seat and the Principality Building Society.
Mr Lewis also points to the continued development of north Wales as a rugby union region, the signing by the national sevens core squad of dual contracts with the four existing regional sides, and record TV viewing during the World Cup and Six Nations.
The role of the WRU is to promote, control and improve rugby union in Wales, and Mr Lewis highlights playing successes including a 2012 Grand Slam, a 2011 World Cup semi-final, an International Rugby Board fourth-place ranking, and regional side Ospreys winning the Pro12 final.
"Underpinning everything is a real sense of long-term planning and preparation, both on the field, and in our financial relationships," says the 58-year-old former head of BBC Radio 1.
Funding streams
To help its clubs find all the funding that is potentially available through the WRU, it has released a document called the Club Funding Index, detailing how the 314 clubs have accessed £27m over the past five years.
"I want to be transparent in terms of funding, and I also want every rugby club in Wales to achieve all the financial benefits they are entitled to access through the WRU," Mr Lewis says.
"The funding streams exist and are there to help our game prosper. This index - which deals with sums from £100 to a quarter of a million - is a roadmap for all clubs to see exactly what they could be achieving."
The potential financial rewards from the WRU are pegged to increased participation. That grassroots drive has also seen a heightened WRU presence in primary and secondary schools, with roughly three-quarters of schools being visited by a coaching representative from the game's governing body.
"What is encouraging is that we have increased our numbers at the younger end of the game, from six years upwards," Mr Lewis says. "There is a focus on schools and student rugby, but we have also looked at other ways to encourage people to participate through forms of the game such as touch rugby."
'Positives'
But although the national team is doing well and there is a community and grassroots participation drive in place, tricky questions remain over the future direction of the quartet of regional teams - Newport-Gwent Dragons, Cardiff Blues, the Ospreys and Scarlets.
Five Welsh regions were initially formed in 2003, reduced to four a year later (with the demise of Celtic Warriors), who compete in European competitions, the Pro12 tournament and the Anglo-Welsh Cup.
The aim of the change from a club-based structure was to improve the standard of professional play and put the game on a sounder financial footing. And the players who helped Wales win Six Nations Grand Slams in 2005, 2008 and 2012 overwhelmingly came from the four regions.
But the combined finances of the four regions showed a funding shortfall of £5.2m in 2011. Top players have gone to play in England and France, and in 18 seasons there has only been one appearance by a Welsh club in the Heineken Cup final.
A PWC report, commissioned by the WRU, assessed the regions' finances up to April 2012 and highlighted options for the future. The report recommended more collaboration between the WRU and the regions, and the Professional Regional Game Board (PRGB) was created.
'Managing relationship'
Each region has agreed to set up a detailed five-year business plan, with the PRGB undertaking formal quarterly reviews.
"I am a half-glass full, and like to look at positives," Mr Lewis says. "Let's not forget the Ospreys Pro12 win last year. Cardiff Blues recent financial results had a positive outlook, and speaking to the Ospreys recently they also sounded confident about their position.
"It is all about managing the relationship between ourselves and the four. We have participation agreements with them until June 2014, and they can elect to continue that to June 2019, and we are certainly in discussions with them about continuing that."
Meanwhile all eyes will now be on Cardiff's 74,000-seater Millennium Stadium come 17:00 Saturday.
"We are ready and I am looking forward to it," says Mr Lewis, but he is equally excited by the under-20 team's game against England at Colwyn Bay in north Wales on Friday night, which is also a Grand Slam decider.
"It is also a sellout, and TV pictures will be shown across the world," says Mr Lewis.