Troika: Greece makes 'progress' but 'issues' remain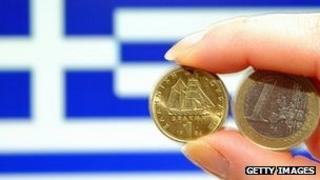 Greece's international lenders have left talks in Athens without a deal that would secure the next tranche of bailout loans for the country.
However, officials from the troika - the International Monetary Fund, the European Commission and the European Central Bank - will return in April.
The troika said Greece had made "significant progress" with economic reforms required to receive the funds.
But it added that "technical issues" still needed to be resolved.
In December, the three lenders agreed to unlock almost 50bn euros in aid, helping Greece to avoid bankruptcy and keep within the eurozone. In return, Athens agreed to introduce a new round of austerity measures, including job cuts and tax rises.
The troika's current review is to determine whether Greece should get the next 2.8bn-euro (£2.4bn; $3.6bn) tranche of the bailout funds. Specifically, the troika is looking into whether Greece is making progress on a promise to reduce substantially the size of its civil service.
Greece's coalition government has pledged to make 25,000 civil service job cuts by 2014, but to avoid compulsory redundancies.
The troika had been expected to give Greece the all-clear during the current visit, but has now decided to return to the issue in April.
The lenders said in a joint statement: "Significant progress has been made, but a few issues remain outstanding. As additional technical work will be necessary to settle these issues, the mission will take a short break to allow this work to be completed."
Greek Finance Minister Yannis Stournaras said that despite the troika's outstanding issues, "in my opinion, the loan tranche is secure".
Greece has received more than 200bn euros in loans since May 2010.
Meanwhile, eurozone finance ministers are due to meet on Friday to thrash out a bailout plan for Cyprus. The meeting comes after a two-day European Union summit in Brussels starting on Thursday.
Cyprus's banks are heavily exposed to Greece. The island's two largest banks, the Bank of Cyprus and Popular Bank, were bailed out following massive losses.