Prof Idol: Four professors, one class, $100,000 prize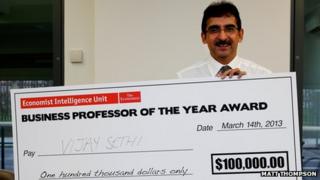 It seems that the popularity of reality television shows has encouraged other activities to become competitive.
That was certainly the case with the final teach-off in the Business Professor of the Year Awards, held on Thursday evening at Hult International Business School.
Is competitive teaching a strange idea? Not according to Professor John Beck, the man who dreamed up the event a year ago.
"Teaching is always competitive," he says.
"All professors get ratings and the ratings are always relative. If you're in with a weak group you're going to get better ratings than if you were with a strong group."
Prof Vijay Sethi, from Nanyang Technological University in Singapore, the eventual winner of the $100,000 (£66,250) prize, disagrees.
"The whole notion of a teach-off is a bit tough," he says.
"Usually we celebrate each others teaching because everybody is teaching something different."
Attempts at suspense
Sorry to declare the winner so early in the feature and spoil the surprise. I know there is supposed to be urgent music and drum rolls, but the organisers of Professor of the Year tried to do that and the laughter didn't die down until the music was stopped.
Nonetheless, they managed to put the result in a gold-ish envelope, and it was a bit of a surprise.
Votes were cast by people watching the event being streamed online and a winner was also picked by a panel of judges at the event.
Both groups chose the engaging, denim-clad Prof Darren Dahl from University of British Columbia.
But the rules of the game were that the only votes that actually counted were those of the 40 students from 20 business schools in the room, and they chose Prof Sethi.
'Nerve-wracking experience'
So what happens when you take four professors and give them 35 minutes to win $100,000?
Prof Kevin Kaiser, from Insead in France, describes the process as "the most nerve-wracking experience of my teaching career".
It makes them uncomfortable for several reasons, not least, Prof Sethi says, because his classes are usually at least three hours long.
It doesn't seem to reduce the level of annoying mannerisms, such as randomly wandering around the room and drawing circles round things with laser pointers.
It doesn't stop virus protection updates popping up on the screen or help the professors remember to switch off their phones before they start.
But it does give a great deal of urgency to the teaching, as the professors try to squeeze as much as they can into an unusually short time.
To be fair, Prof Dahl did pause for a minute to make the class draw a picture of the person sitting next to them (the person sitting next to me drew a house instead, which was weird) but other than that it was pretty much non-stop talking.
Key lessons
What did we learn from the evening?
The internet is like the distribution of wealth because a small number of people have an enormous amount of money while a small number of websites get loads of traffic
Wikipedia only works in practice, not in theory. Can you imagine trying to sell the idea to your bank manager?
Between 80% and 90% of the executives taught by one of the professors said they'd destroyed value or watched colleagues doing so
Businesses are stifled by Hippos, which is an acronym for the most highly-paid person's opinion
The most important question to ask in your organisation should not be "where is the nearest pub?"
Winemaking is a more creative process than filmmaking, as Prof Johanne Brunet from HEC Montreal discovered after visiting Francis Ford Coppola's winery
The 5-cent Hershey bar in the US became like Woolworths in the UK - nobody wanted to buy it but they were upset when it wasn't there any more
Spending four months hiding in a pharmacy for your PhD watching people buying condoms teaches you that you need to be more observant.
At the end, Prof Sethi was presented with a comedy-sized cheque and described his main feeling as being "disbelief".
He also said that the whole process had "made me feel how I did when I first started to teach - it was fun".
And what of the members of the class whose votes had made him the winner?
They were invited from business schools and universities across London.
"I'm going to go back to college and start judging my professors much more," one says.