Rental costs down 0.1% in February, says LSL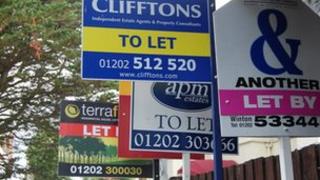 The cost of renting a home in England and Wales fell by 0.1% in February, but remained higher than a year earlier, a property group has said.
The average rent fell by one pound compared with January to £731 a month in February, according to LSL Property Services.
This was the fourth monthly fall in a row, the survey found.
However, the costs facing tenants remained 3.3% higher than February 2012, LSL said.
The group - which owns Your Move and Reeds Rains - said rents grew on a monthly basis in half of the regions of England and Wales, month-on-month, despite the fall on a national basis.
"The rental market has not yet burst into life, but we are seeing more vitality than last year's timid February market, when tenant demand was impacted by the rush to buy homes before the stamp duty deadline," said director David Newnes.
"In the longer-term, the supply of rental homes will have to increase considerably to prevent monthly rent rises when the rental market re-enters its traditional peak season."
Regional breakdown
All areas of England and Wales recorded a rise in rental costs compared with a year earlier, the survey showed, apart from the south-west of England where rents fell by 1.2%.
Rents in London recorded the fastest annual growth, rising by 6.2% - or £64. The south-east of England saw the next biggest year-on-year rise, of 3.3%, while in Wales rents were 2.9% higher in February than the same month a year earlier.
The total amount of rent that was paid late or unpaid fell to the level seen last November. Arrears were at 7.4% of all rent across England and Wales, compared with 8.1% of rent in January.