UBS banker gets $26m 'golden hello'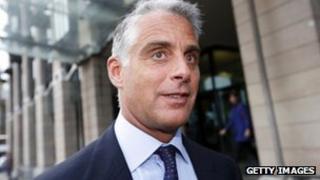 The new head of UBS's investment bank Andrea Orcel received a $26m (£17m; 20m euros) "golden hello" in 2012, the bank's annual report has revealed.
Mr Orcel is in the process of overhauling the investment business, with 2,000 job losses expected.
UBS said that the deal was designed to make up for lost pay at his previous employer, Bank of America Merrill Lynch.
UBS chief executive Sergio Ermotti earned nearly $9m last year.
That is an increase of 40% on the previous year. He joined in April 2011 and was named chief executive in November 2011 after a rogue-trading scandal.
"The group made significant progress under Mr Ermotti's leadership," UBS told its shareholders in the report. "He successfully led the firm in the implementation of its strategy."
It has been a difficult year for the Swiss bank. It reported losses of 1.9bn Swiss francs (£1.3bn; $2.08bn) for the last three months of 2012. That was largely due to the Libor rate-rigging scandal.
Overall, 10,000 employees are expected to lose their jobs and some parts of the bank's business are to be wound down.
The news comes just weeks after Swiss voters backed proposals to impose some of the world's strictest controls on executive pay.
"UBS has still not learnt from the mistakes of the past," said the campaigning shareholder Brigitta Moser-Harder. She told Reuters news agency that Mr Orcel's pay was "outrageous".
"Not only did the investment bank contribute a loss in the billions, it is also being massively scaled back," she added.
Mr Ermotti's remuneration is considerably more than his equivalents in the UK. Barclay's boss Anthony Jenkins earned £2.6m ($3.8m) last year, while RBS's Stephen Hester earned £3.27m, but waived his bonus.
UBS's bonus pool was down 7% to 2.5 billion francs ($2.6bn; £1.75bn).