JD Wetherspoon posts 2.7% profit drop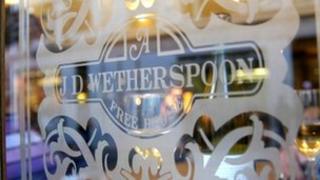 Pubs chain JD Wetherspoon posted a 2.7% drop in profit, taking in £34.8m in the first half of its fiscal year.
Although sales increased as a result of value deals, higher taxes and increased labour costs decreased profitability.
"The outcome for the first half of the financial year was reasonable, given the pressures on the UK consumer," said chairman Tim Martin.
During that time, JD Wetherspoon opened five new pubs, bringing its total to 865, with plans for 30 more.
The company continued to rail against its tax burden, which it says puts it at a competitive disadvantage against supermarkets.
More than £273.5m was spent on taxes, a figure the company said would be much lower if pubs were taxed in the same way as grocery chains.
"The biggest danger to the pub industry is the VAT disparity between supermarkets and pubs," said Mr Martin.
The company said it hoped for a "reasonable outcome" for the rest of the year.
Shares initially rose as much as 1.7% after the results were announced, but were down 1.8% by lunchtime.