Ex-JP Morgan chief Ina Drew says not to blame for losses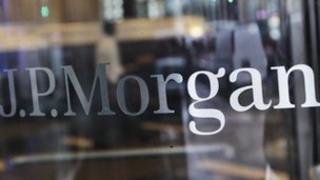 Ina Drew, a former JP Morgan bank executive whose department suffered multi-billion-dollar losses, has said she was not to blame for them.
Ina Drew, who was chief investment officer, said the bank's risk models were flawed and that some London-based staff hid information from her.
She was one of several people giving evidence to the Senate Permanent Subcommittee on Investigations.
The bank lost $6.2bn (£4.1bn) in what was nicknamed the London Whale trades.
Bruno Iksil, the trader at the heart of the incident, was dubbed the London Whale because the positions taken were big enough to move markets.
Ms Drew said that she believed her oversight of the department was "reasonable and diligent". She said she had no knowledge that some trades were inflated or "not reported in good faith".
"Some members of the London team failed to value positions properly and in good faith, minimised reported and projected losses, and hid from me important information regarding the true risks of the book," she added.
Mistakes made
On Thursday, the subcommittee issued a report which said that JP Morgan had ignored risks, misled investors and fought with financial regulators.
"We found a trading operation that piled on risk, ignored limits on risk-taking, hid losses, dodged oversight and misinformed the public," said Carl Levin, the subcommittee's chairman.
In a statement released on Thursday, JP Morgan said: "While we have repeatedly acknowledged mistakes, our senior management acted in good faith."
After the trading loss came to light last year, Ms Drew resigned after 30 years with the bank and voluntarily paid back two years' worth of salary.
The chief financial officer at the time, Douglas Braunstein, also testified before the committee. He said the bank had made a number of mistakes, which he deeply regretted.
'Damning report'
As a result, he said, "a number of employees have had their contract terminated and compensation has been reduced for selected individuals".
When pressed by Senator John McCain, he admitted that his pay had been cut from $9.5m in 2011 to $5m in 2012.
Chief executive Jamie Dimon is not testifying today. The incident raises questions about his future, according to William Cohan, author of House of Cards: A Tale of Hubris and Wretched Excess on Wall Street.
"This report is very damning and there is plenty of email traffic in there, which shows that these guys[management] knew exactly how bad things were getting and that they basically covered aspects of it up," he said.
"This incident shows that we need more regulation and existing laws do not solve the problem."