Charities turn to markets as traditional funding slows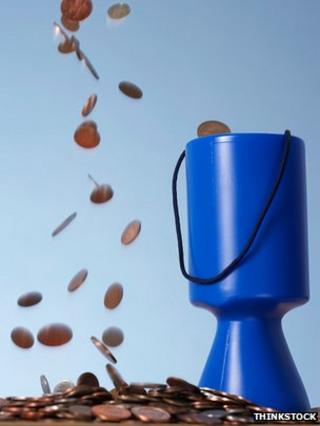 In hard times people often turn to charities for help, but now charities themselves are finding times hard and are turning to the markets for new sources of cash.
With public donations to charities falling, one in six British charities have said they are concerned they might have to close this year.
However, using the financial markets rather than relying on grants means charities may need to make profits from their activities in future.
Last year the government set up Big Society Capital as a social investment bank with the aim of radically changing the way Britain's social sector is funded.
Armed with £400m from dormant bank accounts and £200m from High Street banks, its aim is to kick-start what's called the social investment market.
The idea of social investing, as opposed to ordinary investing, is that the money raised is used to generate social as well as financial returns.
The key difference here is that the money that gets doled out to charities comes not in the form of grants - but as loans that must be repaid.
"All the money we put out, we expect to get repaid, so that we can recycle and use it again," chief executive Nick O'Donohue told BBC Radio 4's Today Programme.
Paying by results
One of the first examples of this for-profits partnership between investors and charities is a project to get more than 400 rough sleepers in central London off the streets and into accommodation.
The Greater London Authority (GLA) has agreed social impact bond - in effect a three-year £2.4m contract - with the homeless charity St Mungo's and a group of social investors.
Unlike grants, social impact bonds pay by results. The GLA will only pay up at the end of three years if St Mungo's has succeeded in getting those sleeping rough off the streets.
To fund the project on a day-to-day basis, the charity has chipped in £250,000 while the investors have put up £650,000 as working capital.
If it is successful then investors will get a return of 6.5% on their money, which will come out of the £2.4m paid by the GLA.
The funding was organised by Triodos Bank, which says for this deal it cherry-picked investors who could afford to risk their money.
"We have to be very careful about the risk profile of the investment as the results are definitely not guaranteed," says head of corporate finance, Dan Hird.
However, St Mungo's operations director Mike McCall, is not worried the charity or the investors might lose their money.
"We are confident we know what we are doing, we have 40 years of experience. We would not have gone into it unless we were confident of the results."
Drugs runner
One of those who have been helped by St Mungo's is Shawn. Now aged 31, he left home at 16 and found himself homeless. He ended up sleeping on friends' sofas - or in prison.
"I resorted to committing crimes just to get by. When I was staying with people it would be on their terms and conditions. Often I would have to bring back money to them for drugs just to survive."
It was after he was sentenced to three years in prison for supplying drugs that he decided he had to change.
"I was in Wormwood Scrubs, going back and forth to the court, and I thought - this has really got to stop."
When he was released he started volunteering with an organisation helping people learn to drive, and then moved into a St Mungo's hostel in London
When the charity suggested to Shawn that he could train as one of its project workers he wasn't convinced initially.
"I'd been told all my life I wouldn't amount to anything, and I never thought I could achieve anything."
Since October he has been working for St Mungo's and says the charity has "given me confidence, qualifications and communication skills - things I never thought I could achieve".
House buying
St Mungo's is not the only charity turning to the financial markets for help.
In a very different social investment model - this time one for the general public - Golden Land Housing (GLH) has issued one of the largest-ever charity bonds, which aims to raise £10m from ordinary investors.
GLH provides homes for people with learning disabilities, many of whom it says are forced to live with elderly parents, carers or in institutions because of a chronic housing shortage.
The charity says it will be able to pay back investors out of its operating surplus generated via the rents on its properties. In 2012 GLH reported a surplus of £1.7m on an annual income of £9.2m.
"From our point of view it's a great way to raise capital to buy housing because we are unable to get grants anymore," says the charity's director Alastair Graham.
"It's played quite well in terms of the economy, now people are not getting that much from their savings.
"We are confident that this bond will raise the capital we need and create a new model for social investment within the charity and housing sectors."
Sharing risks
So what of the future - just how big a role can social investing play in charitable funding?
Dan Hird of Triodos Bank says that for social investing to form a bigger chunk of charities' funding, there will have to be greater risk-sharing.
"On these very early deals, the investors are taking nearly all the risk. It's almost too good for the commissioning body - like the Greater London Authority - because they could end up paying absolutely nothing."
The worry for some in the sector is that future cash-strapped local authorities might see such investments as a substitute for grants, and thus cut funding still further.
"It's important that money coming in from social investment isn't simply replacing the money that would have been coming in from traditional donations," says Rhodri Davis of the Charities Aid Foundation.
Back at St Mungo's, Shawn says the charity has been crucial in helping him turn his life around.
"It's given me a future, because if I look at my background I should be unemployable. In the future I'd like to do some kind of outreach work - on the street level - working with people who I can help and give them guidance.
"I understand them because what they've been through, I've been through. I know exactly where the guys are coming from."