Asda chief: Cheap food 'not to blame for horsemeat'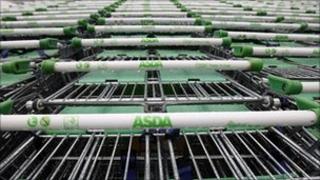 The chief executive of Asda says he was "shocked" by the horsemeat scandal - but believes price was not a cause.
Speaking to Radio 4's You and Yours, Andy Clarke rejected accusations that supermarkets focused on cheap food at the expense of food safety.
He said he believed confidence in the store had been affected, but that blame had to be placed with criminals in the supply chain.
Asda fresh beef bolognese sauce tested positive for equine DNA in February.
"It is nothing to do with price. A customer buying an opening price point product or a premium product should demand exactly the same levels of quality and that is something we pride ourselves on," Mr Clarke told the BBC.
He added that the supermarket had looked hard at its supply chains, but it could only control things within its sphere of influence.
Trust
Placing the blame for the scandal squarely with criminals, he said the illegal acts happening in the supply chain were "hugely concerning" and accepted that customers' trust had been "dented".
The consumer group Which? found that more than half of UK consumers changed their shopping habits as a result of the scandal.
It found 60% of 2,000 adults questioned online said they were buying less processed meat.
Mr Clarke said he was tackling the fallout from the scandal by "taking centre stage" within the organisation to restore confidence.
Of 491 products tested, one of Asda's own brand range failed tests.
Production was temporarily halted at the Bristol factory, one of 23 facilities run by Greencore across the UK and US, where horse DNA was detected.
Greencore announced it had launched a "thorough and comprehensive" investigation into how Asda's Chosen By You 350g Beef Bolognese Sauce came to show 4.8% of equine DNA.