John Swinney urges benefit reform rethink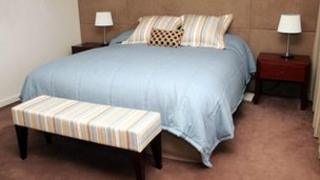 Scotland's Finance Secretary John Swinney has called on UK Chancellor George Osborne to rethink "disastrous" benefits changes in next week's Budget.
He asked Mr Osborne to withdraw the forthcoming change in housing benefit rules, dubbed the "bedroom tax".
Mr Swinney's letter came in advance of the UK Budget on Wednesday.
He said the "bedroom tax" would save the UK government money but would be outweighed by the costs imposed on the Scottish economy.
Size criteria
The so-called bedroom tax is actually a reduction in housing benefit payments to families deemed to have too much living space by their local authorities.
Under the government's so-called "size criteria", families on housing benefit will be assessed for the number of bedrooms they actually need.
In Mr Swinney's letter to the Chancellor, he said he was "particularly concerned" about the introduction of the under-occupancy penalty, saying this would affect more than 100,000 in Scotland.
The UK government argues that the changes will help cut the £23bn annual bill for housing benefit, free up more living space for overcrowded families and encourage people to get jobs.
But Mr Swinney said: "Over time, the policy will remove £110m from the economy through its impact in Scotland alone.
"This does not capture the wider social costs of the policy, nor the distress and disruption that it will cause."
Air passenger duty
Mr Swinney criticised the chancellor for choosing "austerity over investment in jobs and growth" as he demanded he provide more cash for capital investment.
The finance secretary also made fresh calls for responsibility for air passenger duty to be devolved to Scotland and for the Conservative-Liberal Democrat coalition at Westminster to do more to improve access to finance for small and medium-sized businesses.
Labour finance spokesman Ken Macintosh claimed Mr Swinney could do more both for investment in Scotland and to reduce the impact of benefit changes.
Mr Macintosh said he was "disappointed" that 68% of the Scottish government's infrastructure projects did not yet have outline business cases.
He also accused the SNP administration of being "slow to act to protect Scots from some of the worst of the UK government's policies".