Which? calls for 'nuisance call and text' clampdown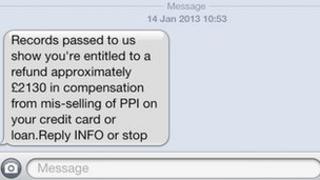 A consumer group is calling for a clampdown on nuisance calls and text messages, claiming 70% of people have received one in the last three months.
Which? said that more could be done under existing laws to stop people being "bombarded" with messages.
The group said that the contact was dominated by sales calls about financial services products.
One regulator said it was sending out penalty notices to firms responsible for thousands of texts.
'Intrusive'
Which? said that more than half of "nuisance" calls were about services such as personal injury or payment protection insurance (PPI) claims.
The consumer group has called for a taskforce to be set up and to report on the issue within 12 weeks.
It also called on the regulators - such as the Information Commissioner's Office (ICO), the Ministry of Justice, and the Office of Fair Trading - to issue fines or withdraw licences of those firms which broke the rules. Such rules include contacting people who have opted out of marketing calls.
It also wants insurers and other companies to make it clear to consumers how they intend to use their data.
"Unwanted calls or texts are not just a nuisance, they can be intrusive and distressing," said Richard Lloyd, executive director of Which?.
"We want the regulators to work together to properly police and punish those responsible for unwanted calls and texts, using the existing law. If they are unwilling or unable to enforce the rules, the government should step in."
The ICO, which now has powers to issue penalties of up to £500,000, said: "We are continuing to clampdown on rogue marketing companies who pester the public with unsolicited marketing calls and texts and are currently chasing up leads and investigating complaints to identify those responsible."
An Ofcom spokeswoman said: "Ofcom has powers to take enforcement action against companies who breach rules on silent and abandoned calls and we take this issue extremely seriously."