Sainsbury's reports 2.1% rise in annual sales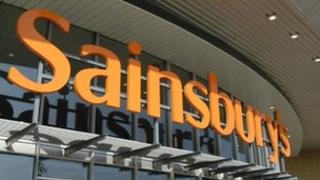 The supermarket chain Sainsbury's has reported higher sales for the year to 16 March and record customer numbers.
Sales rose by 2.1% from a year ago, with a strong pick up in sales growth in the last three months of the year.
The best sales growth came from non-food products, where profit margins are generally higher, with clothing sales 20% above those of a year ago.
The supermarket, which is the country's third-largest after Tesco and Asda, will report full profit figures in May.
The figures were higher than expected, and mark the 33rd consecutive quarter of rising sales.
Sainsbury's said it expected the retail environment to remain tough for the rest of this year.
The company's chief executive, Justin King, said: "Valentine's Day and Mother's Day were both particularly strong this year, and we closed the quarter with a very successful Red Nose Day, presenting a record cheque for £10.5m on behalf of customers and colleagues."
Online sales were also a fast-growing area, with online grocery sales up by almost 20% over the year. The chain delivers to 190,000 customers a week.
The company made £1bn in sales of non-grocery items.