Bentley considers assembling new model outside the UK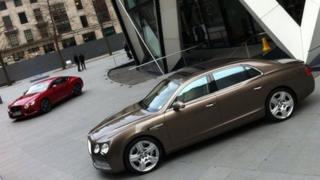 Bentley may assemble its next new model in Bratislava, Slovakia, chief executive Wolfgang Schreiber has said.
It would be the first time a new Bentley model would not be made in its factory at Crewe.
The car, a sports utility vehicle that has yet to be named, is central to Bentley's plan to almost double sales by 2018.
Last year, sales rose 22% to 8,510 cars, with operating profits rising to 100.5m euros from 8m euros in 2011.
Bentley's German parent company, Volkswagen Group, is expected to give the green light for the model within weeks, Mr Schreiber said.
The SUV, which has been completely redesigned after it was shown as a concept at the 2012 Geneva motor show, would then hit the road in 2015 or 2016.
Thereafter, it should clock up sales of some 3,000 or 4,000 cars per year, about a quarter of the total number of cars Bentley expects to sell by 2018, Mr Schreiber predicted.
Balancing interests
Mr Schreiber's suggestion that Volkswagen Group's plant in Bratislava might get the new Bentley is based on its proven ability to produce SUV models for other marques within the group, such as the Audi's Q7 and the Volkswagen Touareg.
Such a decision would be based on an extensive cost-benefit analysis that would need to satisfy members of VW Group's board of management.
"We will do what is right for the Group, and for Bentley," Mr Schreiber said. "It's not been finally decided."
There are no constraints on production capacity at Crewe, as was the case in 2005 and 2006 when some Bentley Flying Spur models were made in Dresden, Germany, to satisfy booming demand.
Indeed, this is where Bentley's own board of management would prefer to make the SUV.
"Of course, we'll do everything to get the car to Crewe," said Bentley's chief finance officer Jan-Henrik Lafrantz.
The 4,000 people who currently build Bentleys are also eager to make sure they get the model, as it could result in further jobs being created.
"We know that our people at Crewe are very motivated to get the model to Crewe, and we as a board support that, not just because they are motivated but also because they are highly skilled," said Mr Schreiber.
"But there is the chance that the whole car will be built in Bratislava, and that we will deliver parts to Bratislava.
"If the components - the leather, the seats, the dashboard - are made in Crewe, then whether or not it is assembled somewhere else, it will still look and feel and smell like a Bentley."
Such indecision might be seen as a sign of disagreement within Volkswagen Group about the best way forward.
But Mr Schreiber rejected an assertion that he was under pressure from the VW Group board to have the SUV made in Bratislava.
When asked, he responded: "That's a clear no."