Transocean 'could have done more' to detect oil rig problems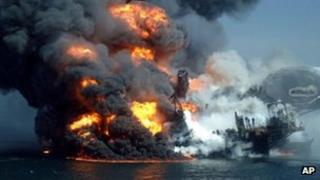 Transocean could have done more to detect problems before the fatal Gulf of Mexico oil rig disaster in 2010, the company's chief executive has said.
But Steven Newman said the company was not responsible for safety on the Deepwater Horizon rig, which was operated by oil giant BP.
An explosion on the rig killed 11 people and led to one of the worst oil disasters in history.
Mr Newman was giving evidence at a trial investigating the disaster.
The trial is trying to determine the causes of the explosion, and to assign fault to the companies involved.
In the wake of the explosion and the oil spill that followed, BP suffered huge reputational damage.
Transocean owned the rig and BP says the company must share some blame.
'Something terribly wrong'
"We acknowledge that we should have done more," Mr Newman said.
Transocean's lawyer, Brad Brian, asked him: "Do you blame the crew that night?"
The chief executive replied: "Do I blame the crew? Do I wish the crew would have done more? Absolutely. I am not sure that that's the same emotional content as blame."
He said that when another company executive called him in Geneva, Switzerland, to tell him the rig was on fire and was being evacuated, Mr Newman could tell from the man's voice that "something was terribly wrong".
The US Justice Department, the Gulf states affected by the oil spill, and other plaintiffs are suing BP, Transocean and other companies for economic and environmental damages related to the disaster.
BP executives have accepted its role in the accident, but believe Transocean and contractor Halliburton share the blame.
Mr Newman said Transocean was responsible for safely performing its own operations on the rig, but he said that overall responsibility for safety at the well was BP's.
Two weeks ago, a Transocean worker on the Deepwater Horizon rig told the court that there was a misinterpretation of signs of trouble ahead of the explosion.
In January Transocean agreed to pay $1.4bn (£927m) in criminal and civil penalties as part of a settlement with the Justice Department.