Bank of England still divided over stimulus funds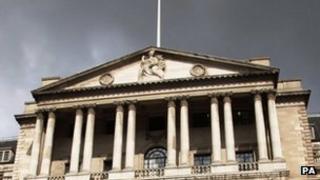 Members of the Bank of England's rate-setting committee remain divided over whether to inject more stimulus money into the UK economy, minutes of its March meeting have revealed.
For the second month, three members, including Sir Mervyn King, voted to extend the quantitative easing scheme.
However, they were again outvoted by the six others.
The release of the minutes comes amid speculation that the chancellor may use the Budget to alter the Bank's remit.
According to reports, the Bank may be given more freedom to target economic growth instead of its current core focus on controlling inflation.
In addition to governor Sir Mervyn, the two other members of the Bank's Monetary Policy Committee (MPC) who voted to extend the quantitative easing programme by £25bn to £400bn were Paul Fisher and David Miles.
One member of the MPC also raised concerns about the continuing weakness of the pound, which has fallen by as much as 8% against the dollar since the start of the year because of fears about the weakness of the UK economy.
Ian McCafferty warned that a further fall in sterling could raise inflation, which might have "damaging" consequences.
As expected, the MPC decided to keep interest rates at 0.5%, which they have been since March 2009.
Philip Shaw, chief economist at Investec, said: "If we get a new remit or a different remit [for the MPC] from the chancellor today, the balance for monetary policy could well change.
"But there is nothing from today's minutes that screams out that we are definitely going to get more QE."