Volkswagen recalls 384,181 vehicles in China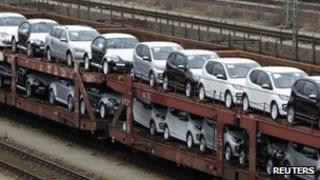 Volkswagen says it will recall 384,181 vehicles in China to replace a part of their gearboxes, its largest recall in the country to date.
Last week, Chinese state television showed Volkswagen consumers reporting sudden acceleration and loss of power.
The German carmaker said the direct-shift gearboxes could cause a power interruption, but drivers could remain in control and stop.
China is the biggest market for Volkswagen.
The recall, which starts on 2 April, includes the Passat, Bora, Touran and Golf models amongst others, the company confirmed.
Volkswagen currently has two production joint ventures with China's SAIC Motor and FAW Group.
It sold 2.8 million cars in China in 2012, and said it planned to increase production to four million vehicles in the country in the next five years.