Budget 2013: More Equitable Life compensation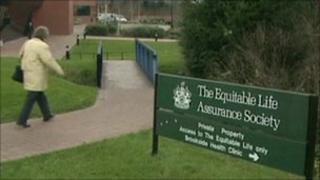 About 9,000 more pensioners are to be compensated for losing money on their pension investments with the collapsed Equitable Life insurance company.
Savers over 60, who took out with-profits annuities before 1992, will now be given extra-gratia payments of £5,000 each.
They had been excluded from the government compensation scheme finally agreed in 2010.
An extra £5,000 will be paid to those who are receiving pension credit.
The development was welcomed by Paul Braithwaite, of the Equitable Members' Action Group (EMAG).
"The screaming injustice of the exclusion to date of Equitable Life's oldest pensioners from any compensation is to now be partially addressed," he said.
Paul Weir of EMAG warned though that the payments would not be made until 2014 at the earliest.
"The flat rate approach has the benefit of speed and simplicity but is rough justice for those who have lost considerably more," he said.
Long-running saga
The Equitable, one of the UK's leading providers of personal pensions, came close to collapse in 2000, and in the process became one of the UK's biggest financial scandals.
After years of official enquiries, in 2010 the government initially agreed that 1.5 million savers should be offered £1.5bn between them.
Subsequently, the compensation policy was refined.
It was decided that about 945,000 policyholders would share £775m, repaying them 22% of their "relative losses".
Of that, £620m went to 37,000 with-profits annuitants.
About 100,000 policyholders received nothing as the pro-rata compensation payments due to them were less than £10 each, and were thus less than the administrative cost of making the payments.
And a further 435,000 policyholders were deemed ineligible for any compensation at all because the government judged that in fact they have not suffered any losses.
Those pensioners who bought their annuity policies before 1992 were excluded too, despite having suffered losses.