US Federal Reserve remains cautious on economic recovery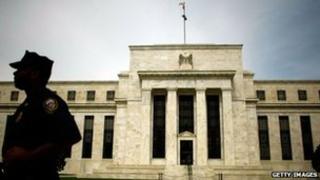 The US Federal Reserve has said that the economy has strengthened "moderately" but still needs stimulus measures to underpin recovery.
In a statement after a two-day meeting, the Fed said it would keep its policy of buying $85bn a month of Treasury bonds and mortgage-backed securities.
The Fed said it wanted to see signs of a long-term fall in unemployment.
The statement said policymakers continued "to see downside risks to the economic outlook".
The forecast for US economic growth this year was lowered slightly, with the Fed saying it expected the economy to grow by 2.3% to 2.8% this year, against its December projection of 2.3% to 3%.
The Fed noted that the job market had improved, consumer spending and business investment had increased and the housing market had strengthened.
But it did not expect unemployment to fall to 6.5%, from its current 7.7%, until 2015.