Texas and the UK build closer economic ties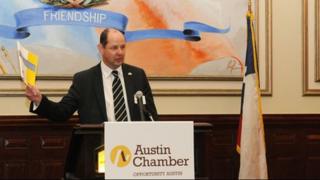 UK business interests are finding an unexpected ally after President Barack Obama announced the commencement of negotiations for a transatlantic US-EU trade partnership in his State of the Union address earlier this winter.
The ally is the state of Texas, which could see some 160,000 jobs being created and its economic output grow by some $17bn a year as a consequence, according to economic analysis firm The Perryman Group.
British and Texas officials are coming together to present a united front on the benefits such a trade partnership would bring to business interests in both the Sceptered Isle and the Lone Star State, named for its single star-emblazoned state flag and for having once been an independent republic.
Economic ties between the two are already stronger than most realise.
The UK is the number one source country for foreign direct investment projects in Texas, valued at $2.5bn (£1.7bn) and accounting for 22% of such investments, according to a report by the Texas Office of the Governor's economic development and tourism department.
On many levels, the UK and Texas could not be more different. Texas, which is three times larger than the UK, is a low-tax state that abhors centralised governmental interference and is sceptical about the UK's brand of social welfare. But when it comes to business, the odd couple is finding common ground.
"Competitive economies like Texas and the United Kingdom stand to gain the most from this process of liberalisation," says Philip Barton, deputy head of mission at the British Embassy in Washington.
"This is a strategic moment for the US and EU to come together on trading standards and gain a commercial advantage."
Attractions of Texas
Texas' exports to the EU totalled $29bn last year. In 2011, Texan companies exported more than $4bn worth of materials to the UK - a 22% increase over 2010's exports - making the UK the third most popular European export destination after the Netherlands and Belgium, according to the US Department of Commerce.
UK is the top source country in three out of Texas' top five sectors for attracting foreign direct investment, namely software and IT, business services and industrial equipment.
In oil, gas and mining, the UK is second behind Canada and in communication it's fourth behind China, South Korea and Japan.
"The UK is incredibly important to Texas," says state representative Rafael Anchia, who chairs the Texas House Committee on International Trade and Intergovernmental Affairs.
"It ranks at or near the top in many trading categories and is responsible for tens of thousands of jobs."
And Texas can offer plenty in return, he insists, pointing to how it is - in standalone terms - the 14th largest economy in the world, in a prime geographic spot in North America, the world's most powerful economic engine, offering ready access to attractive markets in Canada and Mexico.
With plenty of wind power and cheap oil and natural gas from fracking, good value commercial real estate and wages that are much lower than those in, say, New York, investors could do worse, he believes.
British businesses taking root
More than 80% of UK-based foreign direct investment projects in Texas are located in Houston, Dallas and Austin, including companies such as Rolls-Royce, BP and Aveva.
BAE Systems has more than 1,600 employees in nine Texas locations. In Fort Worth, it supplies Lockheed Martin's F-35 fighter jet assembly line with fuselages.
These are constructed by 2,000 workers in BAE Systems' plant in Samlesbury, Lancashire, and the new aircraft represents the largest military procurement programme in history, says Ian Reason, vice-president for F-35 BAE Systems.
The programme is projected to run into the 2030s and, based on current assumptions, produce more than 3,000 aircraft -138 going to the Royal Air Force - which will require support into the 2060s.
BAE Systems is one of 130 British companies supplying the F-35 programme, which is worth more than $1.5bn per year to UK industry and will support about 25,000 British jobs over the next 25 years.
The proposed US-EU free trade agreement would not provide any direct advantages for BAE Systems in Texas, Mr Reason says, though like any business it would benefit from the potentially huge economic growth on both sides of the Atlantic.
"This is the best stimulus package you will get for free," he says.