Budget 2013: Mortgage move 'significant' for buyers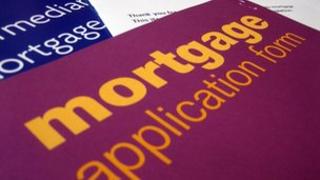 Mortgage brokers have said that government support for home loans, announced in the Budget, is a "significant step forward" for buyers.
Research by one estate agency suggested that more than 600,000 home sales could be supported by the new policies.
But questions have been raised over whether the chancellor's measures could help second home buyers, rather than their intended target.
One economist said that the new schemes would just push up house prices.
New policies
In the Budget, George Osborne announced two measures to add some impetus to house building and the housing market.
The Help to Buy scheme will enable all purchasers to put down a 5% deposit on a newly built home from April. Up to 20% of the cost of the home will be funded by a shared equity loan, financed by the government, which will be interest-free for the first five years.
An estimated 25,000 more sales could be supported each year for three years, according to Savills.
"Whilst that would only increase transaction levels across the whole of the housing market by around 2.5%, it is likely to have a much bigger impact in the first time buyer and second stepper markets which have been most affected since the credit crunch," said Lucian Cook, director of Savills research.
In addition, a new government mortgage guarantee scheme will run for three years from the start of 2014 and will be used to support £130bn of mortgages for old and new homes.
Savills suggested that this "had the capacity" to support an extra 550,000 house sales over three years.
Yet the Council of Mortgage Lenders (CML), which represents the industry, said that the detail of this scheme would be critical in determining whether such capacity was reached.
"Without capital relief, and depending on the size of the fee, the cost of the commercial fee that lenders will have to pay to gain the benefit of the scheme could make the scheme uneconomical," the CML said.
'Irrelevant'
David Hollingworth, of London and Country Mortgages, said that the moves were a "significant step forward" for potential buyers.
Many of these people have been struggling to raise a deposit, owing to rising levels of rent.
Ray Boulger, of mortgage broker John Charcol, said that the policies could unclog some of the blockages in the housing market.
But shadow chancellor Ed Balls has criticised Mr Osborne for not ruling out second home sales as part of the guarantee scheme. Mr Osborne said that this would be looked out as part of the consultation on the details.
However, these second homes would not be to rent out. Homes bought by landlords for buy-to-let have been excluded from the schemes.
There has been some criticism that the move would put taxpayers' money at risk if new homeowners defaulted on repayments.
It would also artificially increase house prices, according to Roger Bootle, an economist at Capital Economics.
"At best, it will just be irrelevant," he said. "People will have more money with which to buy the same number of houses, the same number of people will live in them and the same number of people will be excluded.
"It is just that they will be excluded at a higher level.
"This is very depressing. It is a continuation of the British obsession with the housing market, that has scarred public policy throughout the post-war period."
Mr Boulger said that prices were more likely to go up by 3% to 3.5% this year, rather than 2%, as a result of the moves.
Meanwhile, a type of mortgage that was popular among first-time buyers during the housing boom has withered further, following announcements made by lenders on Budget Day.
Yorkshire Building Society, Accord and Chelsea Building Society, which are part of the same group, announced that they would stop offering interest-only mortgages from Sunday.
HSBC said it would also withdraw these mortgages for new customers, except its Premier Banking customers.
Interest-only has now become a very niche product for high-earning borrowers, according to Andrew Montlake, of mortgage brokers Coreco.