Nike shares jump as earnings beat forecasts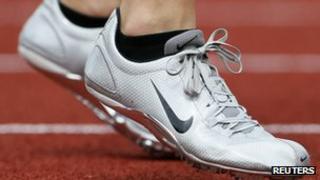 Nike's quarterly profits have beaten analysts' forecasts as a recovery in US sales and lower material costs helped offset continued weakness in China.
The world's largest athletic shoe and clothing company posted third-quarter net income of $662m, against $569m for the three months last year.
The news saw Nike shares jump 8% in after hours trading on Wall Street.
"The US business continues to be just phenomenal," said Morningstar analyst Paul Swinand.
Revenue increased 9% to $6.2bn (£4bn), with the US accounting for $2.55bn, up 18% on the previous quarter. Revenue from China was down 9% to $635m.
However, Nike said in a statement that future delivery orders from China for the next quarter are strong. "For real long-term growth to be solid, it has got to come from China and emerging markets," Mr Swinand said.
In a conference call, Nike chief executive Mark Parker said the company was seeing progress in China, but "we still have more to do before we can capture its long-term growth potential".
Revenue from online operations rose 33% in the quarter, but Mr Parker said there was much more to do. "It's a pretty big gap between where e-commerce is today and where we can take it," he said.