Mulberry shares drop 16% on profit warning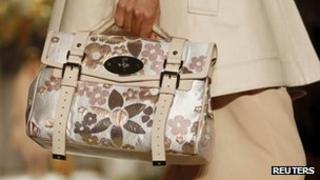 Luxury goods maker Mulberry has issued a profit warning, sending its shares down 16%.
It blamed "weaker than anticipated trading post-Christmas" and said pre-tax profit for the year to March will now be about £26m.
It added that wholesale will now be down 15% compared to last year.
"After three years of rapid growth, Mulberry has experienced a year of consolidation," said chief executive Bruno Guillon.
The firm had said as recently as December that its full-year profits would be in line with market expectations.
Mulberry, famous for its leather bags, some of which cost £4,500 each, said its orders for autumn/winter 2013 were "building satisfactorily".
Shares in Mulberry have been sliding since May last year.
"We are focused upon optimising the distribution network and adapting our tactical marketing strategy to drive international brand awareness," said Mr Guillon.